5 Tips for Preventing and Treating Sunburn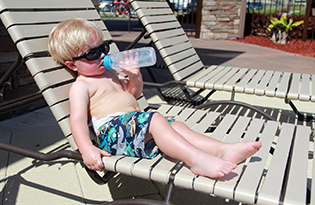 Reminders for sun safety, and tips to help soothe the pain if you forget to re-apply sunscreen while having fun in the sun.
1. Seek shade when appropriate.
The sun's rays are strongest between 10 a.m. and 2 p.m. If your shadow appears to be shorter than you are, seek shade.
2. Wear protective clothing.
Wear a long-sleeved shirt, pants, a wide-brimmed hat, and sunglasses wherever possible.
3. Generously apply a broad–spectrum, water-resistant sunscreen.
The sunscreen should have a Sun Protection Factor (SPF) of 30 or more, and it should be applied to all exposed skin areas even on cloudy days and especially after swimming or sweating.
4. If you do get burned, take frequent cool baths to relieve the pain.
Pat dry, leaving just a bit of water on the skin and then gently apply moisturizer that contains aloe vera or soy to help trap water in the skin.
5. Consider taking aspirin or ibuprofen.
Both help reduce any swelling, redness and discomfort, and drink extra water to prevent dehydration.
Source: Dr. Elizabeth S. Martin, aad.org.