5 Tips for Family Farmers Market Shopping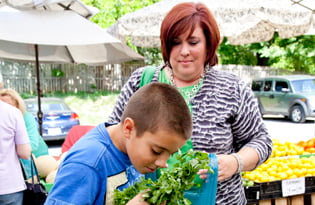 Turn a routine grocery trip into a fun family outing that's as educational as it is entertaining.
Go farm to fork. Spend the morning picking out produce, and then prepare a meal together at home.

Give the kids a job. Let the kids help write the shopping list, and assign each one certain items to find at the market to keep them focused and engaged.
Shop in style. Kids can create personalized canvas shopping bags to take along. They'll love loading up their bags.
Find new flavors. Most vendors at markets are happy to share samples. Take this as an opportunity to introduce your kids to new fruits and vegetables.
Learn something new. Where does honey come from? How are apples harvested? What's a spaghetti squash? Make it a point to pick the farmers' brains. They're experts on agriculture and are eager to share their craft with curious kids (and parents, too).