5 Healthy Additions to Your Thanksgiving Dinner
Thanksgiving meals don't have to be gut-busting.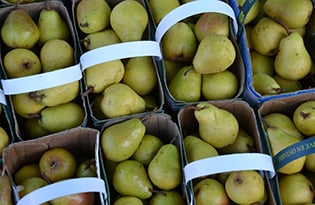 Thanksgiving meals don't always have to be gut-busting. It's time to enjoy a new variety of fruits and vegetables that can help you power up your immune system and keep you healthy all winter long.
Pears
Pears are a nutritional bargain. At only 100 calories per serving, one pear provides 6 grams of fiber; that's 20 percent of the RDA for fiber. They are also a good source of vitamin C and are known to be the least allergenic of all fruits. Try pears on the grill, pureed into soup or a smoothie, or simply sliced and tossed with a salad.
Sweet Potatoes
Just one medium sweet potato provides more than a day's worth of vitamin A and 35 percent of the RDA for vitamin C. Sweet potatoes are a source of fiber, vitamin D, and iron.
Pumpkin
Pumpkin is incredibly rich in vital antioxidants, vitamins, minerals and fiber. One serving provides 300 percent of the RDA for vitamin A. Pumpkin is also rich in vitamins C, E and iron. In addition, pumpkin seeds are a good source of protein, fiber, minerals, and essential omega 3s. Roasting pumpkin seeds is a family fun activity and healthy way to enjoy the fall season.
Kale
Join the kale craze. With its growing popularity, kale is being recognized for its exceptional nutrient richness and delicious flavor. Kale is a nutritional powerhouse, rich in beta carotene, vitamins K, C, B, and minerals calcium, potassium and iron. Kale chips are an easy and fun way to add the benefits of kale to your diet.
Oranges
One medium orange meets the RDAs for a day's worth of vitamin C. But did you know that oranges also provide potassium, calcium, vitamin A, fiber and folate! Orange slices make a wonderful addition to salads. Oranges complement the flavors of onions, olives and fennel.
Find recipes using these ingredients.
– Information provided by registered dietitians at Carolinas Healthcare System.