5 Family-Friendly Festivals Coming to Charlotte in September
Celebrate the end of summer and welcome fall with these family fun events!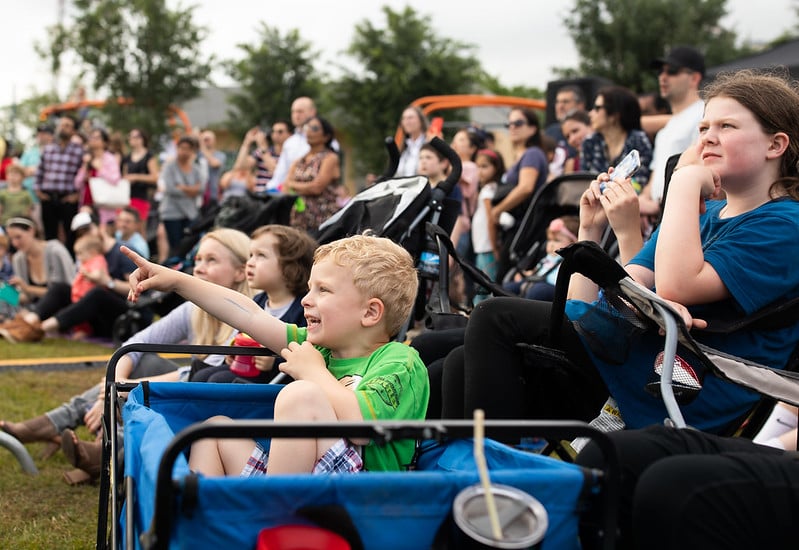 Labor Day is right around the corner – time to get ready for festival season in Charlotte! From events with a Latin flair to visiting over 150 artists around a picture perfect lake, there is something for every member of your crew! Make an afternoon stop or plan to spend the day wearing the kids out with activities, games, rides, art projects and other fun things to do. Bring your appetite and enjoy an ethnic dish, fair food or anything in between. Before heading out, check Web sites for the most current information.
Celebrate Labor Day with live music and fireworks. There will also be a trail race as well as regular pass activities.
Location: 5000 Whitewater Center Parkway, Charlotte
Dates: Saturday, September 4, and Sunday, September 5
Times: Starting 8 a.m. on Saturday and 9 a.m. on Sunday. Live music in the evening.
Cost: Parking is $6 per vehicle. Free to walk around however events and activities do have a cost.
Pro Tip: No need to leave your favorite four-legged friend at home, leashed dogs are welcome at the Whitewater Center.
Since 1978, this festival with music, dancing, rides and lots of yummy treats is one of the best ways to welcome fall!
Location: Holy Trinity Greek Orthodox Cathedral, 600 East Boulevard, Charlotte
Dates: Thursday, September 9 to Sunday, September 12
Times: Thursday, 11 a.m.-8 p.m.; Friday and Saturday, 11 a.m.-10 p.m. and Sunday, Noon-6 p.m.
Cost: $3. Activities and special events do have fees.
Pro Tip: Carpool or use alternative modes of transportation to get to the festival as parking along East Blvd. can be tight at peak times. And do not leave without treating yourself to a baklava sundae! Note that all events will be held outside and a streamlined food menu will be available.
Don't miss the Queen City's biggest festival of the year! For three weeks Charlotte comes alive with live performances, art, food, special guests and entertainment.
Location: Multiple venues in Uptown Charlotte
Dates: Friday, September 17 to Sunday, October 3
Times: Various
Cost: Both free and ticketed events are available.
Pro Tip: Check out the list of upcoming events and performances and don't miss a minute of the action.
Photo Credit (including cover pic): AlexanderSouth
Get ready for two days of live performances, visual artists, crafts, authentic Latin American food and more. There will also be an interactive street festival with activities for the whole family.
Location: Symphony Park, 4400 Sharon Road, Charlotte
Dates: Saturday, September 18 and Sunday, September 19
Times: Saturday, 5-10 p.m.; Sunday, Noon-8 p.m.
Cost: At time of publication, Saturday ticket prices had not yet been determined, free admission on Sunday.
Pro Tip: Bring a chair or blanket and enjoy live entertainment going on all day at the Symphony Park stage.
A tradition since 1964, Festival in the Park brings music, art, events and over 150 artists and creators to Freedom Park near Uptown Charlotte.
Location: Freedom Park, 1900 East Boulevard, Charlotte
Dates: Friday, September 24 to Sunday, September 26
Times: Friday, 4-9 p.m.; Saturday 10 a.m.-9 p.m.; Sunday, 10 a.m.-5 p.m.
Cost: Free. Family Fun Zone activities do require tickets.
Pro-Tip: Spend more time enjoying the festivities and less time looking for a place to park with shuttle and light rail transporation options.
Enjoy a new season and time with the family in September!