4 Healthy Tips for Active Preschool Play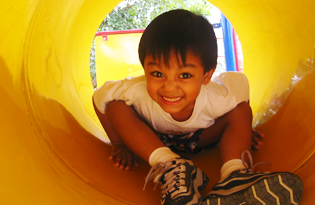 1. Make active play fun for the whole family. Let your child help plan the fun.
2. Focus on fun, not performance. All children like to play. They will win when they move, have fun, and are active daily.
3. Set limits on computer and television time. Limit screen time to less than two hours a day. Replace with reading time.
4. Be active yourself. Active parents tend to raise active children. You influence your child's behavior, attitudes and future habits. Set a good example. Stay active and limit your screen time too. 
As children grow, they may be ready for more activities.
By age 2: Run, walk, gallop, jump and swim with adult help.
By age 3: Hop, climb, ride a tricycle or bicycle with training wheels and a safety helmet. Catch, throw, bounce or kick a ball.
By age 4: Skip, swim and complete an obstacle course.
Find out more at choosemyplate.gov/preschoolers.