3 Ways to Make a Healthier Grocery Store Run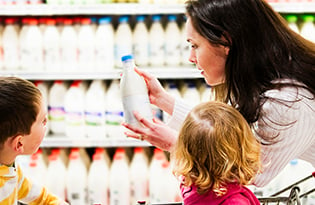 1. Make a List
Write your grocery list in order of how foods are arranged in the grocery store, and make sure a majority of those items are from the perimeter of the store where fresh foods –  produce, lean meats, dairy – are found.
2. Don't Shop When You're Tired
Don't shop hungry; we've all heard that. But don't shop tired, either! If you're worn out, you're more likely to purchase "time-saving," processed and prepared foods potentially loaded with salt and extra calories.
3. Portion Control
Put your plastic or glass storage containers on the counter while you're writing your grocery list. When you get your groceries home from the store, immediately portion containers of food (like trail mix or nuts) into single-serving-sized containers to maintain portion control.
Tips provided by Carolinas HealthCare System, Charlotte Parent's healthcare partner in the Fit Family Challenge.
Fit Family Challenge: 


Learn more about the Fit Family Challenge