3 Steps to Getting Dinner on the Table in a Hurry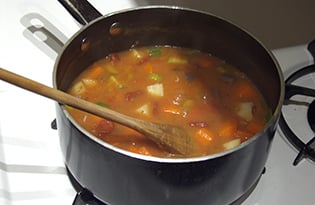 When you're busy running around the entire day, getting the kids off to school and then to after-school activities, or coming home from work, the biggest hurdle of the day seems to be getting dinner on the table.
You know that sinking feeling, when it's already 6 o'clock and one of them asks, probably from the back of the car, "What's for dinner?" You're visualizing the fridge and wondering if you could do a Food Network Chopped challenge and feed five people with one chicken breast, 1/2 cup rice and a head of broccoli. Now, you're mentally checking off the take-out options and debating this over the time, effort and expense in sitting down in a restaurant. 
It's important to eat well, sit down together as a family and put a well-balanced meal on the table that makes us feel happy and healthy. Home cooked doesn't always feel possible, but it's more achievable than you might think. The Cooking Fairy Joanna Wallis, a personal chef in Greenwich, Connecticut, shares these three steps to ensure a healthy, home cooked meal is on the table for your family even on the busiest days.

Step 1: Think Ahead; Plan Ahead
It sounds simple, but 30 minutes once or twice a week to plan out your family's meals and devise a shopping list can really pay off. Being unprepared can cost you dearly — in time, money and health.
Think about which nights you might have more time to cook and even use those nights to prepare items for your busier nights. Weekends might be easier to do this than week nights – so make items that store well or freeze, including soups, stews, baked pasta dishes. Schedule this planning time into your calendar.
Step 2: Hire a Personal Chef for Busiest Days
Hiring a personal chef does not have to mean hiring a full-time, cook-in-the-home chef. Instead, there are services where you can have healthy, delicious meals delivered to your home so you can get dinner on the table even on the busiest days of the week. No worrying about planning dinner, shopping for the ingredients, prepping, cooking or cleaning. Your mouth-watering dinners are delivered to your home, ready to heat up in bakeware dishes. Or look into mobile food providers that deliver healthy, frozen or fresh meals to our doorstep.
Step 3: Personal Chef Yourself 
With a little discipline, you can be your very own personal chef. Most food, if prepared with a little knowledge, holds well for at least 24 hours. Because re-heating can often ruin the texture of food, knowing a few dishes that can be prepared, right up to the point of baking and yield a perfect dining experience is useful. Rice and vegetable gratins are a great example of this, where all the hard work is upfront, but they bake up within 30 minutes or so. You can even make a fish dish ahead of time, with sauce and vegetables, just so long as you wait until the last minute to actually cook the fish.
Chicken remains tender if you part sear it to get that crispy exterior and then set it up in a sauce and finish in the oven just before you're ready to eat. So instead of looking for recipes that are just quick and easy, start looking for recipes that are quick, easy and can be prepared or part-prepared ahead of time. Just don't forget to put the oven on ahead of time too! 
Get you started with these recipes.
Quinoa-Vegetable Gratin
Sicilian Baked Salmon
Joanna Wallis is a busy mom of three who started cooking more than 20 years ago. Her culinary knowledge is self-taught and spans a variety of different cuisines and styles. Her love of food was the inspiration for The Cooking Fairy which started out as a glimmer of shiny magic over three years ago. Joanna works as a personal chef for a wide range of clientele and she loves bringing families together with healthy, delicious, and fresh meals prepared just for them.