3 Must-Visit North Carolina Mountain Towns
These mountain towns offer budget-friendly family fun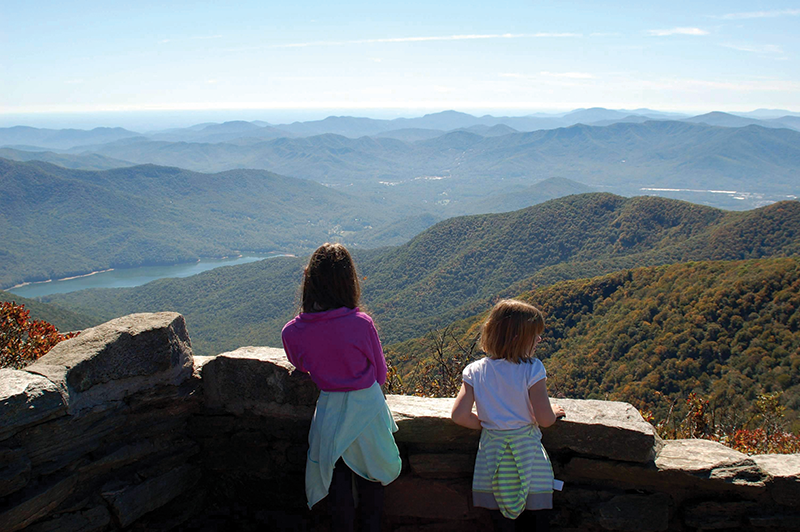 Need a change of scenery from the hustle and bustle of life? Want the kids to unplug from their devices so you can connect as a family this summer? Take a scenic hike, kayak down a river, pitch a tent or explore the local shops in these three inviting western North Carolina mountain towns.
---
Asheville
Asheville is an artsy, architecturally appealing town with acclaimed restaurants and a craft brewery on nearly every block. It's also surrounded by the Blue Ridge Mountains, which offer family-friendly hiking trails and the French Broad River — perfect for a lazy day of tubing. Stay downtown within walking distance of everything, or stay closer to Biltmore Estate, just 5 miles south of downtown. You can also search for that perfect antique at the renowned Tobacco Barn, just a few miles south of the downtown area.
Where to Stay
If you'd like to be able to walk to restaurants, shops and other attractions downtown and not have to deal with the hassle of parking, most major hotel chains — Marriott, Hilton, Crowne Plaza, Omni — operate in the area, along with a few boutique hotels like the Aloft Asheville Downtown, Grand Bohemian Hotel Asheville, Hotel Indigo and Haywood Park Hotel.
Just a little over a mile south of the downtown area, you can stay at one of Biltmore Estate's renowned hotels: The Inn on Biltmore Estate, Village Hotel on Biltmore Estate or the Cottage on Biltmore Estate. The Omni Grove Park Inn is 2.5 miles north of downtown and offers a memorable boutique experience as well.
If you'd rather rough it, check out Lake Powhatan Recreation Area and Campground in Pisgah National Forest, 12 miles southwest of downtown Asheville. 
Where to Play
Craggy Gardens is located on the Blue Ridge Parkway at milepost 364. A less-than-1-mile hike puts you at the summit in no time and offers big rewards with 360-degree views. The trailhead is located 20 miles from downtown Asheville.
Enjoy a float trip down the gentle, slow-moving French Broad River while you're in the area. Rent a kayak, pack snacks and enjoy a lazy day along a 7-mile river trip that passes by the shoreline of the Biltmore Estate. The Asheville Outdoor Center, located 5 miles southwest of downtown, provides everything you need for a self-guided trip and will send a staff member to pick you up at the end of your two- to three-hour adventure.
Before you go, purchase candy treats and a water toy for the kids at Mast General Store, located on Biltmore Avenue in downtown Asheville.
Where to Eat
Recently named one of the hottest food cities in America by restaurant review website Zagat, Asheville has no shortage of family-friendly, local restaurants and breweries. Satisfy your Southern cravings with barbecue and banana pudding at Buxton Hall, a converted roller-skating rink on Banks Avenue. Early Girl Eatery on Wall Street is great for breakfast bites and can accommodate food allergies. Wicked Weed Brewing Pub makes for a good afternoon stop and offers a full menu, a wide selection of beer on tap and patio seating for watching passersby on Biltmore Avenue. White Duck Taco Shop, also on Biltmore Avenue, offers more than just basic tacos. Choose from the Duck Taco With Molé, Thai Peanut Chicken and Crispy Chicken BLT, plus many other unique combinations.
Pizza lovers can get their fix at Asheville Pizza and Brewing Company's original location on Merrimon Avenue. Kids of all ages will love the dine-in movie theater ($3 per person) and arcade, which features classic games and pinball machines.
---
Bryson City
Bryson City's proximity to the Great Smoky Mountains National Park and the Nantahala Outdoor Center makes it an excellent base camp from which to explore all kinds of activities in the area. Downtown Bryson City features quaint shops, breweries and restaurants, and the Great Smoky Mountains Railroad train depot. Within a 20-minute driving radius you can canoe on Fontana Lake, raft the Nantahala River, mountain bike at Tsali Recreation Area and explore trails in the Great Smoky Mountains National Park.
Where to Stay
Aloft in the Smokies offers four condominiums located above McClanahan's Collectibles, a popular downtown store. Park your car and walk to shops, restaurants like the Nantahala Brewing Company and the train depot.
The Deep Creek Tube Center and Campground can be very crowded, so be sure to get your reservations in advance. 
Where to Play
The Great Smoky Mountain Railroad departs from downtown Bryson City and offers scenic train excursions through the North Carolina mountains, along the Nantahala and Tuckasegee rivers, across valleys and through tunnels. Check the railway's website for special events throughout the year, including the Freedom Train in July.
Construction on The Road to Nowhere began in the 1940s to replace a road that flooded when Fontana Lake was formed by the damming of the Little Tennessee River. Funding ran out before its completion, but not before a two-lane tunnel was constructed through a hillside. The road ends at the mouth of the tunnel and Lakeshore Trail continues on the other side. Walk through the tunnel and continue on the trail as long as you'd like before turning back.
Located roughly 14 miles southwest from downtown Bryson City, the Nantahala Outdoor Center offers guided rafting trips on level II/III rapids. Children must be 7 years or older and weigh at least 60 pounds. For a less adventurous outing, rent kayaks or a stand-up paddleboard to enjoy on Fontana Lake. A two-hour rental includes gear and transportation to and from the lake.
Where to Eat
Downtown Bryson City offers a variety of dining options and two breweries on Everett Street. Be sure to try the French toast or biscuits and gravy for breakfast at Everett Street Diner.
The High Test Deli and Sweet Shop, also known as The Filling Station Deli, offers a variety of sandwiches, including paninis, subs and frozen ice cream sandwiches. Pack a lunch to enjoy on a hike.
You can't go wrong at Anthony's on Depot Street. Enjoy a pizza or Italian entrée on the restaurant's outdoor patio.
With its old-time decor, Soda Pop's Ice Cream Parlor serves up handmade shakes, fountain floats, sundaes and banana splits. You will leave happy with sticky, smiling faces.
---
Brevard
Brevard is another charming mountain town filled with shops, restaurants and galleries specializing in art and antiques. It's also home to DuPont State Recreation Forest and Triple Falls, where "The Hunger Games" was filmed.
Where to Stay
If you're looking for a unique, retro-style hotel, check out the recently renovated Sunset Motel on Brevard Street, just minutes from downtown.
You can't beat the Davidson River Campground in Pisgah National Forest for its proximity to town. The campground is large, but fills up fast. Bring bikes to ride on the trail along the Davidson River.
Where to Play
Window shop along Main Street and enjoy Brevard's relaxing downtown vibe. Don't miss O.P. Taylor's on Broad Street, which claims to be "the coolest toy store on the planet." Browse through two floors loaded with toys for all ages, including retro toys, a large track where kids can race cars and a vast selection of Legos.
Hike to High Falls and Triple Falls and walk through a covered bridge in DuPont State Recreational Forest. These easy, short hikes are perfect for all ages.
Pack a picnic, relax and channel your inner Katniss from "The Hunger Games" at Triple Falls, where many of the movie's scenes were filmed. Arrive early as these trails often become crowded on weekends.
Nearby Pisgah National Forest and DuPont State Recreational Forest offer several hundred miles of single-track trails and fire roads (wider dirt roads) for biking. Stop by The Hub to rent a mountain bike and get the scoop on local trails.
Where to Eat
For a small town, Brevard offers something for everyone. Cedar Mountain Café, located near the entrance of DuPont National Forest, makes everything in-house and is a popular breakfast spot. Have a burger and milkshake at Rocky's Grill and Soda Shop's authentic 1950's lunch counter.
Oskar Blues Brewery on Industrial Drive offers a relaxing outdoor patio where burgers and tacos are served in the evenings from the on-site "chubwagon." You can also schedule a free tour of the brewery.
---
Amy Ragsdale is a travel planner, wife and mom who loves scenic beauty and good food. See more of her suggestions for family-friendly places to stay, eat and play at simplyawesometrips.com.