3 Digital Thermometers for Kids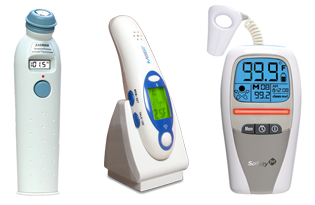 Exergen Temporal Artery Thermometer
What's hot: Gently records temperature within seconds with a scan across the forehead. A red LED light and beep insures a correct scan. All ages. $32.50. temporalscanner.com.
Mobi Dual Scan Thermometer
What's hot: Dual feature allows temperature to be taken from the ear or forehead. Includes a stand and stores last 20 measurements with date and times. Features mini built-in flashlight, voice readout options, clock and calendar. All ages. $34.95. getmobi.com.
Safety1st ProGrade Complete Family Thermometer
What's hot: Records temperature orally, rectally, or axillary. Includes a Fever Light Bar that illuminates when a fever is indicated. Saves up to 10 temperature readings and tips are conveniently stored inside the thermometer. All ages. $44.99. safety1st.com.
Read More: 


View all Family Wellness articles