3 Comfy Chairs for Kids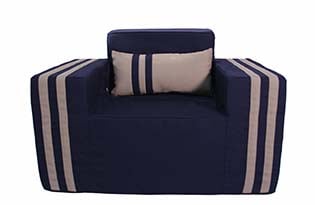 1. Softblock Kids Collection Chair
Kids like it because it's squishy, but it looks sleek and functions as well indoors as out. The new Softblock Kids Collection chair has removable, washable covers that are quick drying and UV resistant. The bottoms are mildew resistant too. $352, softblockdesign.com.
2. Joki
Just hanging around? Do it in a Joki, a soft, indoor swing suitable for children ages 3-9. The large cotton seat can be removed. $110, lasiesta.com.
3. Fatboy Jr.
Beanbags have come a long way. The Fatboy Jr. defies its name suffix with a whopping 40-by-50 inches of robust stuff to lounge on. It adjusts perfectly to kids' bodies and comes in 20 bold colors. $159, fatboyusa.com.