25 Family-Friendly Events and Activities in Charlotte: July 2021
From laid-back concerts to active adventures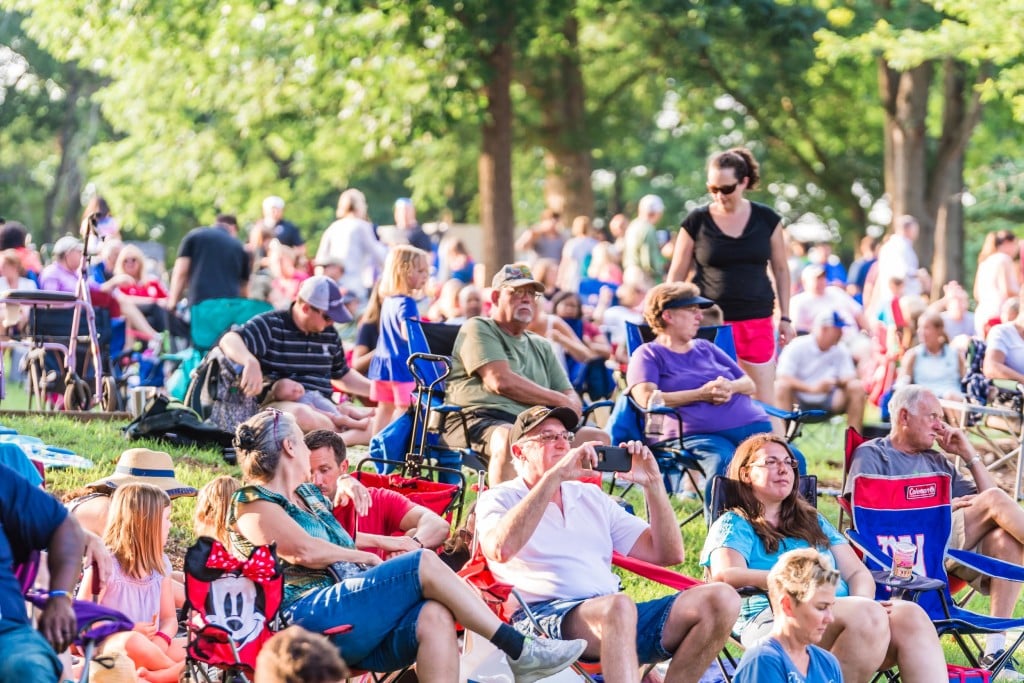 July 2
July Jamboree. Blackberry Ridge Farm, 14820 Beatties Ford Rd., Huntersville. 5-10 p.m. $5. Come for food, music, games, kids' water activities, vendors, and beer for adults. Fireworks begin at 9 p.m. blackberryridgefarmnc.com.
July 3
Fourth of July Concert. Stumptown Park, 120 S. Trade St., Matthews. 7-9 p.m. Free. Listen to live music performed by Tim Clark Band, and purchase hotdogs, hamburgers, and ice cream from food trucks. matthewsnc.gov.
July Third Parade. 210 Postage Way, Indian Trail. 11:30 a.m. Free. Start Independence Day celebrations early with a parade in downtown Indian Trail. The parade begins at the Indian Trail Post Office and ends at Old Monroe Road. indiantrail.org.
Red, White, and Belmont. 24 S. Main St., Belmont. 6-10:30 p.m. Free. Celebrate Independence Day in Belmont! This year's festival will differ from previous events, but the community is invited to enjoy outdoor dining and fireworks. cityofbelmont.org.
July 3-4
Fourth of July Celebration. U.S. National Whitewater Center, 5000 Whitewater Center Pkwy. 9:30 p.m. fireworks. Free, $6 for parking. Visit this outdoor oasis for yoga, live music, and fireworks on both Saturday and Sunday. Pass activities will also be available for purchase. whitewater.org.
July 4
Birkdale Village Fourth of July Celebration. Birkdale Village, 8712 Lindholm St., Huntersville. 10 a.m.-1 p.m. Free. Arrive at 10 a.m. to decorate your bike for the bike parade, which begins at 11 a.m. The parade ends with block party that includes music, face painters, and family entertainment. The block party is from 11:45 a.m. to 1 p.m. birkdalevillage.com.
Independence Day Celebration. Waxhaw Community Corner, Highway 16 and North Main St., Waxhaw. 11 a.m. Free. Fill up at the Food Truck Rodeo, which begins at 11 a.m., before rocking out with the band Gump Fiction from noon to 3 p.m. waxhaw.com.
July 9
Rockin' & Reelin'. Pineville Lake Park, 909 Lakeview Dr., Pineville. Free. 7 p.m. Check out the online schedule for all outdoor movie showings and live performances. This week, come out for the band, Too Much Sylvia. pinevillenc.gov.
July 10
FabFest Daytime. Spirit Square, 345 N. College St. 10 a.m.-5 p.m. $10-$20, ages 4 and younger free. Get ready for live Beatles music, memorabilia, speakers, and activities. For even more Beatlemania action, get tickets for the two evening concerts at Belk Theater, The Fab Four on July 9 and Tosco Music Beatles Tribute on July 10. Get $5 off your FabFest Day Ticket when you purchase it at the same time as your ticket to either evening concert. fabfestcharlotte.org.
Family Fun Night. Mint Hill Veterans Memorial Park, 8850 Fairview Rd., Mint Hill. 6:30-9 p.m. Free. Shelley Ruffin and The Hoodies will rock the stage at Mint Hill Veterans Memorial Park for Family Fun Night. In addition to the concert, the event includes food trucks and family games. Family fun starts at 6:30 p.m.; concert begins at 7 p.m.
Festival of Food Trucks in Downtown Mooresville. North Main St., Mooresville. 5-8:30 p.m. Free. Come hungry, grab some food truck fare, bring a chair or blanket, and stay and relax awhile. downtownmooresville.com.
July 13
Stories and Shaved Ice. Walter Elisha Park, 345 N. White St., Fort Mill. 1:30 p.m. Free. Visit Walter Elisha Park for a free shaved ice from Kona Ice Fort Mill. Hear stories about the importance of water quality and environmental science from Fort Mill's Stormwater Department. Pack sunscreen and lunch for a picnic and playground time before or after the event. fortmillsc.gov.
July 17
Kids Catfish Tournament. Dallas Park, 1303 Dallas Cherryville Hwy., Dallas. 8 a.m. Ages 3-15. Free. Gaston County Parks and Recreation presents a tournament for fishing and fun. Children must be accompanied by an adult, but adults are not permitted to fish during the tournament. gastongov.com.
July 18
Charlotte Knights vs. Gwinnett Stripers. Truist Field, 324 S. Mint St. 5:05 p.m. $13+. Watch the Knights take on the Stripers. This Sunday evening game includes the Rally Towel Giveaway and Kids Run the Bases promotions. milb.com/charlotte-knights.
July 21
Fireflies' Glow Family Campfire. Latta Nature Preserve, 6211 Sample Rd., Huntersville. 7-8:30 p.m. Free. Skip the heat of the day and enjoy an evening outdoors. Gather around the campfire to roast marshmallows (provided), and feel free to bring graham crackers and chocolate to make s'mores. parkandrec.com.
July 28
Wild Wednesday. Mint Museum Randolph, 2730 Randolph Rd. 6-8 p.m. Free. Meet an animal from Stevens Creek Nature Center, go on a self-guided scavenger hunt, and take home an animal-themed art kit. Just like every Wednesday, admission to the museum is free from 5 to 9 p.m. mintmuseum.org.
July 30
Crafty Caterpillars. Latta Nature Preserve, 6211 Sample Rd., Huntersville. 10-11 a.m. $4. Ages 3 to 6 are invited to explore the lift of butterflies and craft a caterpillar. parkandrec.com.
ONGOING
July 1-11
Queen Charlotte Fair. Route 29 Pavilion, 5650 Sandusky Blvd., Concord. $7-$12, children 5 and younger free. Come for shows, rides, and traditional fair food. Purchase admission and tickets for rides in advance online, or in-person with cash. See website for daily schedule. queencharlottefair.com.
July 15, 17, and Aug. 21
Creek Crawl. Stevens Creek Nature Preserve, 15700 Thompson Rd., Mint Hill. 10-11 a.m. Ages 2 and older. Free. Register online to come splash in the creek, search for critters, and learn about Stevens Creek's aquatic ecosystem. This is not a drop-off program, so parents are invited to enjoy the fun too. Additional dates include July 17 and Aug. 21. parkandrec.com.
July 17, 24, and 31
Queen City Summer Festival. Fran's Boys and Girls Center, 2600 W. Trade St. Noon-6 p.m. This festival features more 50 vendors with the latest products, brands, giveaways, and more. There will be food, bounce house, kid activities, face painting, raffles, and entertainment. eventbrite.com.
Through July 29
Summer Concert Series. Anne Springs Close Greenway Comporium Amphitheater, 291 Dairy Barn Lane, Fort Mill. 6 p.m. $6 per adult, ages 5-12 5-12 greenway use fee, plus $5 per car for special event parking. Bring blankets, chairs, kids, and even leashed pups for live music on Thursday evenings. Beverages and dinner from food trucks are available for purchase. ascgreenway.org.
Through Aug. 19
LaLaCaboosa. Veterans Park, 201 Huntersville-Concord Rd., Huntersville. 6-9 p.m. Free. Bring lawn chairs and blankets for Huntersville's outdoor concert series, LaLaCaboosa. This month's two events feature Pursey Kerns on July 8 and Thurston Howell Band on July 22. See website for additional concert dates, which run through Aug. 19. huntersville.org.
Through Sept. 4
Blakeney Summer Concert Series. 9870 Rea Rd. 7-9 p.m. Free. Come to Blakeney Shopping Center for free, family-friendly concerts every Saturday evening from June 5 through Sept. 4. Grab food at nearby restaurants or come early for shopping. July's events include performances by Holly Hopkins Jazz, Woody and The String Pullers, The Inlaws Band, and Tim Cook Band. shopblakeney.com.
Through Oct. 23
Davidson's Concerts on the Circle. 605 Jetton St., Davidson. 4-9 p.m. Free. The Town of Davidson presents an ongoing concert series on Jetton Street by Clean Juice. July's concerts take place on July 3 and 24. concertsonthegreen.com.
Through Dec. 11
Market at 11. 11611 North Community House Rd. 11 a.m.-6 p.m. Free. Visit this open-air market in Ballantyne for a little rest, relaxation, and fun. The market occurs every second Saturday of the month through December and offers yoga, live music, picnic spaces, food trucks, beers for purchase, and shopping. goballantyne.com.