2014 Charlotte Parent Terrific Teens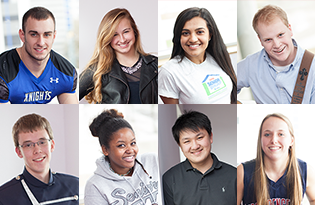 From athletics to community service and a lot in between, there's no doubt Charlotte-area teens are go-getters. Each year we seek nominations from teachers, coaches and the community in general who want to recognize a local teen for his or her achievements. We received more than 120 nominations this year. Though all deserving, the editors here at Charlotte Parent narrowed it down to eight to spotlight in this year's Terrific Teens feature.
After meeting the teens at our photo shoot, I left inspired and honestly in awe of the spirit these kids have. With Dartmouth, N.C. State University, Yale, University of Georgia and University of Chicago on the horizon for these juniors and seniors, these kids are full-steam ahead on the track for success. They are personable, friendly, and engaging when asked about the things they love – from sports to music and a lot sandwiched in between. Read on to learn more about what makes them stand out from the rest.
Thank you to the Charlotte Bobcats for sponsoring the 2014 Terrific Teens.
---
Meet the Teens!

Jeb Blazevich
Charlotte Christian School
Honest | Inspiring | Positive
Read more »
---
Mary English Moore
Charlotte Country Day School
Talented | Compassionate | Creative
Read more »
---
Khushbu Madhiwala
Cato Middle College High School
Motivated | Enthusiastic | Focused
Read more »
---
Alec Landry
Hough High
Talented | Ambitious | Dedicated
Read more »
---
Daniel Smith
Piedmont High School
Smart | Motivating | Kind
Read more »
---
Chardonae Johnson
Garinger High School
Giving | Intelligent | Creative
Read more »
---
Emma Pixley
Providence Day School
Humble | Passionate | Competitive
Read more »
---
Andrew Sun
Myers Park High School
Inventive | Multitalented | Intelligent
Read more »
---
Photos by Becca Bond Photography.