12 Terrific Teens 2010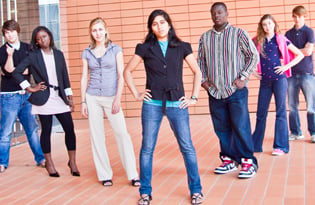 Congratulations to these local teens who display outstanding heart, character and leadership! Our second-annual spotlight applauds their accomplishments inside and outside of school, and it reminds us there are thousands more deserving teens in our community in spite of the negative news we often hear about teens.
We began soliciting nominations in May from parents, teachers, school counselors, coaches and the community. We asked for three descriptive words that distinguish the teens in academics, athletics, arts or community service from his or her peers. We received many worthy nominations from throughout the area – from Cabarrus County to York County, S.C. The entire editorial staff began poring over the list as it grew and grew, excited to learn about the motivated and talented students.
Kudos to the parents of these 12 teens for raising such caring and charismatic community leaders. In appreciation to the teens and their families, Charlotte Parent is making a $50 donation to the charity of each student's choice.
We wish we could have honored all the teens who were nominated, and because we know there are so many more out there who deserve a pat on the back, we're already looking ahead. Be sure to pick up our March 2011 issue to read about more terrific teens!
Photos by Becca Bond Photography, shot on location in uptown Charlotte at the Bechtler Museum of Modern Art and The Green.
Read more about Charlotte Parent's 2010 12 Teriffic Teens:
Juanita Leto, Kevin Caldwell and Cassie Carpenter
Daniel Thompson and Chelsea Leo
Stephanie Wahab
Morgan Roberts
Khallid Love, A.J. Calhoun and Mounica Gummadi
Stephanie Schauder and Olivia Stinson
Nominate a Terrific Teen!