10 Tips for Buying Nutritious Food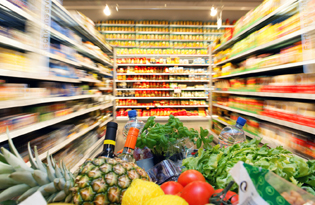 Grocery shopping isn't just about stocking up on the food supply in your house. It's also one way you make decisions about your family's health and happiness.
Keep in mind the layout of the store is not on your side. Grocery stores are retail stores intentionally designed to get you to buy more than you intended. As a result, you and your kids may end up eating more than you really should.
With such a big responsibility on your hands, how can you be sure you're making the right decisions? The next time you have to shop for food, keep these 10 tips in mind to save time, cash and calories at the grocery store.
Before You Go
1. Plan ahead. Take the time at home to plan the meals your family will eat for the week, and then make a list of all the ingredients you need to make those meals. When planning, consult the grocery ads that arrive in your mailbox and incorporate foods that are on sale into your planning. Take advantage of buy one-get one offers, too, and jot down a note to incorporate the item into the next week's meal plan.
2. Clip coupons. Go through newspaper flyers and magazines for coupons. Organize them by food type or aisle location, and keep the ones that you'll need right away for easy access at the store. Also, check for savings at www.coupons.com and www.coolsavings.com.
3. Eat. One of the worst things you can do is go grocery shopping when you're hungry. When everything in the store looks good, you're more likely to shop on impulse. Those smells from the bakery and deli are no mistake — they're meant to entice you to buy something you didn't necessarily need or want.
At the Store
4. Go solo. If at all possible, leave the kids at home. This allows you to focus on the task at hand, and you're much less likely to load your cart with unhealthy choices.
5. Weigh your organic options. Eating organic foods is a great way to ensure your choices are healthy, but it isn't necessarily economically wise for your wallet. Eating a variety of produce is just as important as eating those which haven't been treated with chemicals. Cut down on your grocery bill and still make smart choices when it comes to produce by purchasing the organic variety of the "dirty dozen": apples, bell peppers, celery, cherries, grapes, nectarines, peaches, pears, potatoes, raspberries, spinach and strawberries.
6. Shop the perimeter. Wheel your grocery cart around the outside edge of the store, and avoid the middle aisles as much as possible. It's along the edges that you'll find foods in their most natural forms. Stock up on a rainbow of produce, breads made from whole grains, lean cuts of meat and plenty of low-fat dairy products.
7. Read labels. Minimize the purchase of anything with partially hydrogenated oils (also known as trans fats), saturated fat, cholesterol and excess sugar or salt. It helps to avoid foods with more than five ingredients, and if you can't pronounce the ingredients in a product, chances are you wouldn't want these in your body anyway.
8. Stock up on good savings. It's okay to buy frozen, canned and dried foods. In fact, doing so may help you reduce waste because they have a longer shelf life than fresh foods. When nonperishable staples are on sale, stock up. You may pay more this week on groceries, but it will save you money in the long run. Just keep in mind to choose wisely: vegetables without added salt, fruit packed in juice (instead of syrup), tuna packed in water (instead of oil), low-fat soups and olive or canola oils.
9. Shop generic. In just about all cases, the generic or store-brand version of a product is just as good (quality-wise) as name-brand items. The only difference is the packaging … and the fact that you can spend up to 40 percent less by purchasing store labels. If you're not convinced, compare the labels.
And speaking of labels, avoid anything with cartoons or that are marketed for children. These often are more expensive and not necessarily healthy.
At Checkout
10. Get a savers card. Nearly every grocery store has a club that offers additional discounts, occasional coupons and members-only offers on purchases, and it's almost always free to sign up. Take advantage of these savings by becoming a member, and sign up to get e-mail alerts about sales.
JoAnna Haugen is a freelance writer in Las Vegas. Learn more at www.joannahaugen.com.