10 Charlotte Holiday Traditions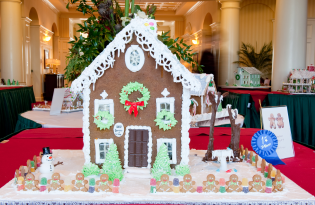 Some are new, others are longtime favorites, but undoubtedly there are lots of happenings to help put the family in the holiday spirit. Check out holiday light displays and join in the uptown tree lighting festivities, strap on ice skates at an outdoor rink, or "ooh" and "aah" at gingerbread houses built by professionals. Whatever you choose to do, have a great holiday celebrating the season as a family.
1. Lights on the Square Tree Lighting:
Celebrate the holiday season at all four corners of the square. Watch as the city's tree lights up, and enjoy a visit from Santa, plus local musical talent and performances. Trade and Tryon streets. 704-332-2227. findyourcenter.com.
2. Christmas Town USA:
The town of McAdenville transforms every holiday season with lights on more than 375 trees, church chimes, a light display in the fountain, and holiday decorations that include a 46-foot-wide Old Man Winter blowing snowflakes at the lake. Residences in town are also decorated in the festive spirit along the two-mile route. Free. Nov. 30-Dec. 26: Monday-Friday, 5:30-9:30 p.m.; Saturday and Sunday, 5:30-11 p.m. McAdenville. mcadenville-christmastown.com.
3. Christmasville:
"Old Town" Rock Hill transforms into a storybook holiday village and outdoor art festival. Enjoy lights, a Christmas parade, carolers, crafts, carriage rides, food and performances throughout the day. There are plenty of events for kids, including several opportunities to visit with Santa. See the website for a full listing of scheduled events. Free. Nov 29-Dec. 2. 803-329-8756. christmasvillerockhill.com.
4. Leonard Bearstein Symphony Orchestra:
An orchestra of computerized bears sing and play favorite holiday classics such as "Jingle Bells," "Santa Baby," and "Santa Claus is Coming to Town." Free. Dec. 1-29: Monday-Friday, hourly shows from 10 a.m.-2 p.m., 5 p.m. and 6 p.m.; Saturday and Sunday, hourly shows from 8 a.m.-6 p.m. Founders Hall, 100 N. Tryon St. 704-716-8649. foundershall.com.
5. Holidays at the Garden:
Christmas has never been brighter with more than 600,000 lights, old-fashioned trains, visits from Santa Claus, carriage rides, holiday carols, live entertainment, baked treats and other holiday fun. See the 16-foot Christmas tree made from orchids. Cost: $6-$12. Nov. 23-Dec. 31: Noon-9 p.m. Daniel Stowe Botanical Garden, 6500 S. New Hope Road, Belmont. 704-825-4490. dsbg.org.
6. Carolina Christmas at Charlotte Motor Speedway:
Drive a 4.7-mile route decked out in holiday lights, visit the live Nativity scene, fix some s'mores, wander through the Festival of Trees, and have a photo taken with Santa. NASCAR infield garages are converted into a walk-through Christmas Village Thursdays through Sundays. Cost: $20 per vehicle. Nov. 20-Dec. 30; 6-11 p.m. visitcarolinachristmas.com.
7. Holiday on Ice:
The tradition continues on the coolest surface in the city, an outdoor skating rink. Rent skates and stay all day if you like. Enjoy snacks and hot cocoa. At night, skate under holiday lights. Nov. 21-Jan. 6, 2013. The NASCAR Hall of Fame Plaza, 400 E. Martin Luther King Blvd. 704-654-4400. holidayonicecharlotte.com.
8. Zootastic Park Christmas Wonderland of Lights:
Take a two-mile drive and see more than 1.3 million lights. Enjoy other festivities such as a visit with Santa, pony rides and a petting zoo. Roast marshmallows and sip some hot cocoa. Cost: $5. Nov. 16-Dec. 31; Weekdays and Sundays, 6-9 p.m., Fridays and Saturdays, 6-10 p.m. Zootastic Park of Lake Norman, 448 Pilch Road, Troutman. 704-245-6446. zootasticpark.com.
9. Gingerbread Lane:
See all the entries for this year's gingerbread house professional and amateur competition. For a $1 donation, which benefits the Levine Children's Hospital, you can place your vote for your favorite. Free. Dec. 13-25. The Ballantyne Hotel and Lodge, 10000 Ballantyne Commons Parkway. 704-248-4000. theballantynehotel.com.
10. Christmas at the Library:
This family friendly event includes a live Nativity scene with animals, story time for kids, holiday lights and carriage rides. Each night, hear Christmas music and carolers. Free. Dec. 1-22: Monday-Thursday, 5-9 p.m.; Friday-Saturday, 5-10 p.m., closed Sundays. The Billy Graham Library, 4330 Westmont Drive. 704-401-3200. billygrahamlibrary.org.
Road Trip! The Polar Express:
Take a 1.25-hour round-trip train ride through the wilderness to the "North Pole" to visit Santa Claus. Guests enjoy hot cocoa and a treat while listening and reading along with the story, "The Polar Express." Cost: $10-$49. Nov. 9-Dec. 30. See website for schedule. Great Smoky Mountains Railroad, 226 Everett St., Bryson City. 800-872-4681. gsmr.com.