Reframing the Pandemic: 5 Ways COVID-19 Is Teaching Our Children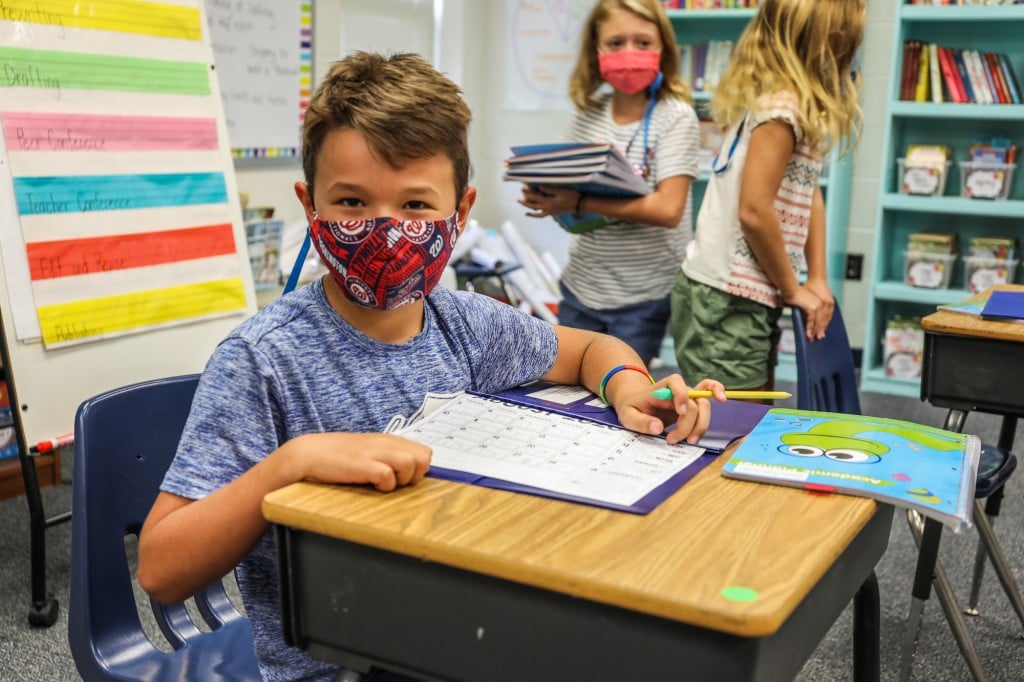 It can be challenging today to find silver linings in our new normal.
We hear from friends, colleagues, family, mainstream media and social media all that is being taken away from our children during this pandemic time—activities, social interaction, and in-person school to name just a few.
What if we choose to switch our focus away from what is being lost, and instead recognize and appreciate what our children can gain?
Below, Charlotte Christian School's Lower School Counselor, Angela Liner, and Lower School Assistant Principal, Brandon Henderson, share a new perspective through which parents can look at the unique character growth opportunities given to children this school year.
5 Ways COVID-19 Is Teaching Our Children
1. Our children are growing in responsibility
In many instances, students have been tasked with learning new technology, whether it be for a switch to online school in the spring or beginning at-home learning this fall.
Students are not only responsible for caring for the technology they use, but many are also learning new technology platforms—with Zoom and Seesaw now being a part of everyday learning. As this type of learning requires students to be self-driven and self-guided, they are able to have more control over their learning process.
2. Our children are growing in empathy
Students are learning a valuable lesson of practicing self-control and understanding that sometimes caring for others in our community requires doing things that are inconvenient. The Charlotte Christian School (CCS) community has committed to safety measures, including frequent handwashing, social distancing, and wearing masks.
"It has been a beautiful thing to watch empathy grow in the hearts of our students," shares Mrs. Liner. "In a self-focused world, our students are learning to think outside of themselves and follow guidelines put in place to keep our community as a whole safe and healthy."
3. Our children are growing in flexibility
Much of what was familiar and routine for students while "at school" has changed dramatically. The beginning of the 2020 school year includes much more than the usual new teachers and classrooms.
The ability of students to adapt and persevere while pushing through fears and unknowns is essential for teachers to successfully reach each learner, regardless of where their learning is taking place.
"Our students' successful transition through our various methods of learning—online, on-campus, at-home—has not only helped them take ownership of their education in a new way, but it has also planted seeds for a lifetime of adaptability in our ever-changing world," observes Mr. Henderson.
4. Our children are growing in gratitude
The pauses in daily routines have posed challenges, but they have also given us and our children the opportunity to practice reframing something that seems negative into a gift.
Students are experiencing a greater sense of gratitude for what may have previously gone unnoticed, such as being at school with teachers and peers and learning while at home while being a part of the real-time classroom community of learners.
Students are learning to be grateful to live in an age of technology in which learning does not have to stop when they are not able to come to campus.
5. Our children are growing in faith
We are all facing many uncertainties during this school year. This may be the first time some of our students are asking hard questions and leaning on God for peace in the unknown.
CCS students are strengthening their faith in God and finding comfort in prayer. Many of their families have used this extra at-home time for family prayer or church in their living rooms. These moments of quiet and relying on faith are developing new routines and habits that will be with students long after this "pause" is over.
Charlotte Christian School is a christ-centered, college preparatory school, equipping and developing students to effectively integrate Biblical truth and learning into their daily lives and to impact the culture for Christ.
Attend an upcoming virtual open house experience for A Closer Look at Charlotte Christian.
Charlotte Christian School 2020 Virtual Open Houses:
Grades JK-K: October 7 at 10 a.m.
Grades JK-5: October 14 at 10 a.m.
Grades 6-12: October 28 at 10 a.m.
To attend a virtual open house, click here to contact the admissions team. You can also reach admissions by calling 704-366-5657 or emailing admissions@charchrist.com.