Inside Look: UNC Charlotte's Most Popular Camps on Campus for Summer 2021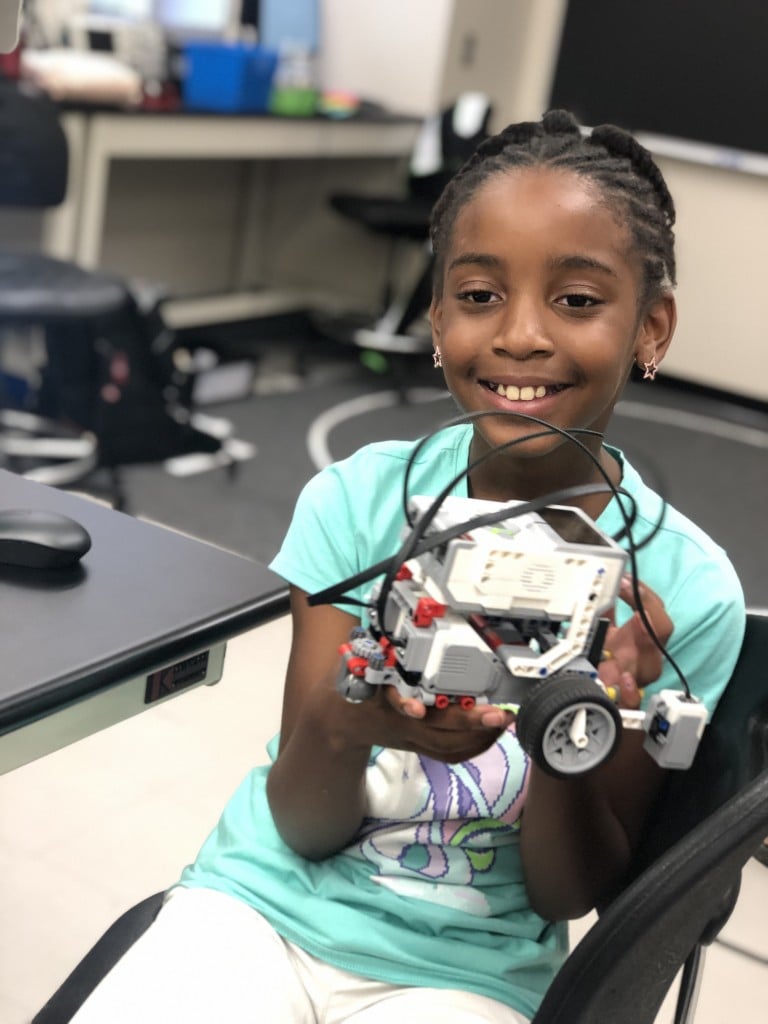 Especially in the year 2021, the importance of finding engaging and educational activities for your child is more prevalent than ever.
For summer 2021, UNC Charlotte's long-running Camps on Campus program has found a way to safely bring kids back to in-person fun—with just a few modifications to the regular program. Camps on Campus has been offered for over 20 years and is a top choice for local parents—especially with the variety of programming they have.
Camps on Campus Enhanced COVID Safety Measures
If you are a returning family to the program, you know that safety has always been listed first under the Camps on Campus program values.
In light of current public health concerns, they have been in close contact with their Emergency Management and Risk Management departments during summer 2021 planning.
Updates to the Camps on Campus summer 2021 operations include (but are not limited to):
A reduced schedule of camps and a smaller total camp population each week.

Daily temperature check/wellness documentation at check-in.

An increase in the frequency of enhanced cleaning and disinfection of all classrooms.

Frequent trips to hand-washing stations throughout the day and as well as opportunities to use hand sanitizer.

Mandatory masks while on campus (depending on UNC Charlotte and state mandates at the time the camp season commences).
Other changes include no shared supplies among campers. This means that some supplies may be ordered for each camper to have their own, however, in most cases, it will mean families will receive a supply list from their teacher to purchase, similar to what you receive from teachers during the academic school year.
Finally, Crown Commons (the location for buffet-style meal plans in previous years) will be closed for construction in summer 2021—which is great timing for renovations because campers will need to pack their lunch daily anyway. Lunch will take place either outside (weather permitting) or in the classroom.
Sneak Peek: UNC Charlotte's Most Intriguing Camps on Campus for Summer 2021
"[My daughter] loved the Robotics and Chinese camps," says one parent of her child's experience at Camps on Campus. "It was a great way for her to explore different, diverse topics in a safe environment."
This year, there are more than 50 total camps to explore, with many featuring relevant and fun themes sure to excite your student—no matter their age.
The camps are open to students rising into 1st through 12th grades, broken up into three categories:
(click to jump)
Each camp focuses on character development, with counselors who encourage inclusion and teach the students how to forge solid friendships. The instructors lead age-appropriate activities so there's no time for your child to be bored.
Hoping to find that perfect camp for your student? Here's a quick breakdown of each age group's camp options at UNC Charlotte for summer 2021.
Online registration for camps will open to the public on January 26, 2021. Make sure to mark down your family's favorites; the popular ones fill up fast!
Cool School (Grades 1-4)
For the youngest campers, those rising into 1st through 4th grades, UNC Charlotte's Cool Schooloffers a wide range of worthwhile camps.
Musical Theater campers will spend the week learning (and creating some of their own) dialogue and scripts, choreography, songs, and more.
For students with science and math minds, Chemical Concoctions with a STEM Twist allows students to create color-changing mixtures, and Robotics 101 will teach your student to build and control their own bot using a LEGO MindStorms kit.
See all 2021 Cool School camps here.
49er Minors (Grades 5-8)
Specifically created for students rising into grades 5 through 8, the 49er Minors camps are cross-curricular and integrate multiple academic subjects.
Curious kids can sign up for CSI: Campus, where they will learn to analyze a (fake) crime scene, collect data, and present their case to a jury as lawyers and expert witnesses.
Or, if you have a budding MasterChef Junior at home, Culinary Camp, in partnership with and led by UNC Charlotte Dining Services and Chartwells, includes instruction in nutrition and ingredients. Campers will author their own recipe books to take home and cook or bake a dish each day in the Bistro located in the Student Union.
For makeup tutorial-loving pre-teens, the interesting Cosmetic Chemistry camp teaches the science behind cosmetic creation. They will be able to create their own bath bombs, soaps, and more!
See all 2021 49ers Minors camps here.
Niner Academy (Grades 9-12)
With a career focus, Niner Academy camps center on rising grades 9 through 12, introducing campers to academic disciplines and careers that their high schools may not offer.
Each camp in the Niner Academy aims to add substance to college applications and professional resumes. One of the most obvious is College & Career Readiness—important for any high schooler—which helps them adapt a growth mindset and create a strong student profile and build a college and life vision.
Timely camp topics include The Evolution of Critical Thinking in Gaming and AI for All, where students activate their critical thinking playing various games and campers create basic Artificial Intelligence (AI) systems, respectively.
See all 2021 Niner Academy camps here.
UNC Charlotte's Camps on Campus are available at both the University and Center City locations. They will also host virtual coding camps throughout the summer. Online registration for camps will open to the public on January 26, 2021. Visit summercamps.uncc.edu to learn more and register.