Charlotte Aquatics Reopens with Robust Safety Measures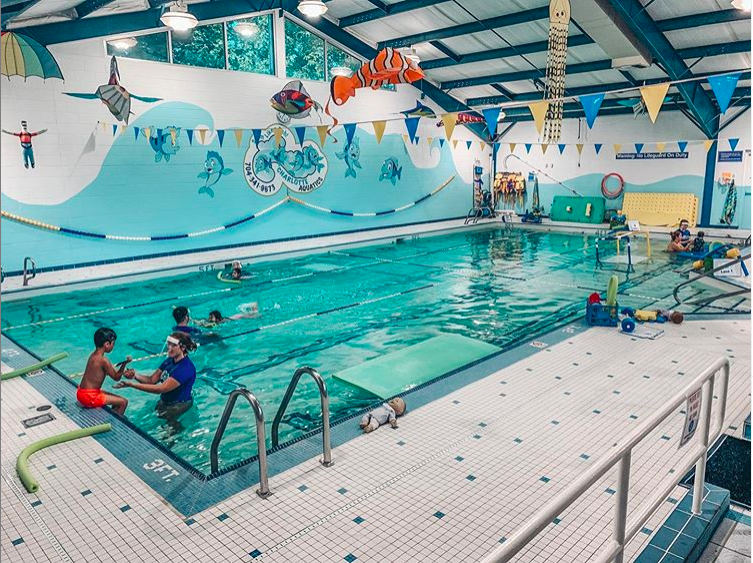 As North Carolina entered Phase 2 of reopening, on June 8, 2020, Charlotte Aquatics reopened its pool to young swimmers—but not without major precautions.
As the state of North Carolina moves through its phases of reopening amid COVID-19, parents are rightfully wondering which local programs they can support.
More importantly, parents are wondering how those local programs have adapted safety measures to keep children safe and healthy.
The Center for Disease Control recently outlined safety guidelines specifically for public pools that are welcoming swimmers back into their waters.
One of those pools is the well-known, mom-owned Charlotte Aquatics, which has been teaching water safety to swimmers of all ages since 1996.
After closing immediately amid COVID-19 news, the popular swim school has followed suit with the state and officially reopened on June 8.
Not throwing caution to the wind, Charlotte Aquatics has implemented multiple changes to ensure the safety of swimmers, parents, and their team.
The major change? Charlotte Aquatics is only offering private lessons. They are adhering to Phase 2 rules encouraging social distancing and, therefore, reduced capacity.

Charlotte Aquatics' Safety Measures During COVID
With extreme caution, Charlotte Aquatics is only offering private lessons upon opening and will transition into a small group size when they can safely do so.
Only offering private lessons upon opening
Temperature checks on all staff and customers prior to entering the building
Daily symptom screening of all team members
Multiple hand-sanitizing stations
Masks required for everyone inside the facility
Face shields required for water staff
Sanitizing all frequently touched surfaces and teaching aids every 30 minutes
Enforcing proper social distancing
Deep cleaning and sanitizing every night
Secondary UV disinfecting system for pool water
Click through the below images from Charlotte Aquatics' Instagram account with helpful reminders ahead of your swim class. Note that swim students are not required to wear masks.
While there may be some changes to what swim lessons look like this summer, the level of attention and care from Charlotte Aquatics' staff will not waver.
However, because they are only offering private lessons at this time, space is limited, and spots are filling quickly. Click here to enroll today.