12 Ways to Explore Uptown as a Family Summer 2021
Stumble upon new sights and rediscover old favorites with warm-weather weekend outings in Uptown with the family.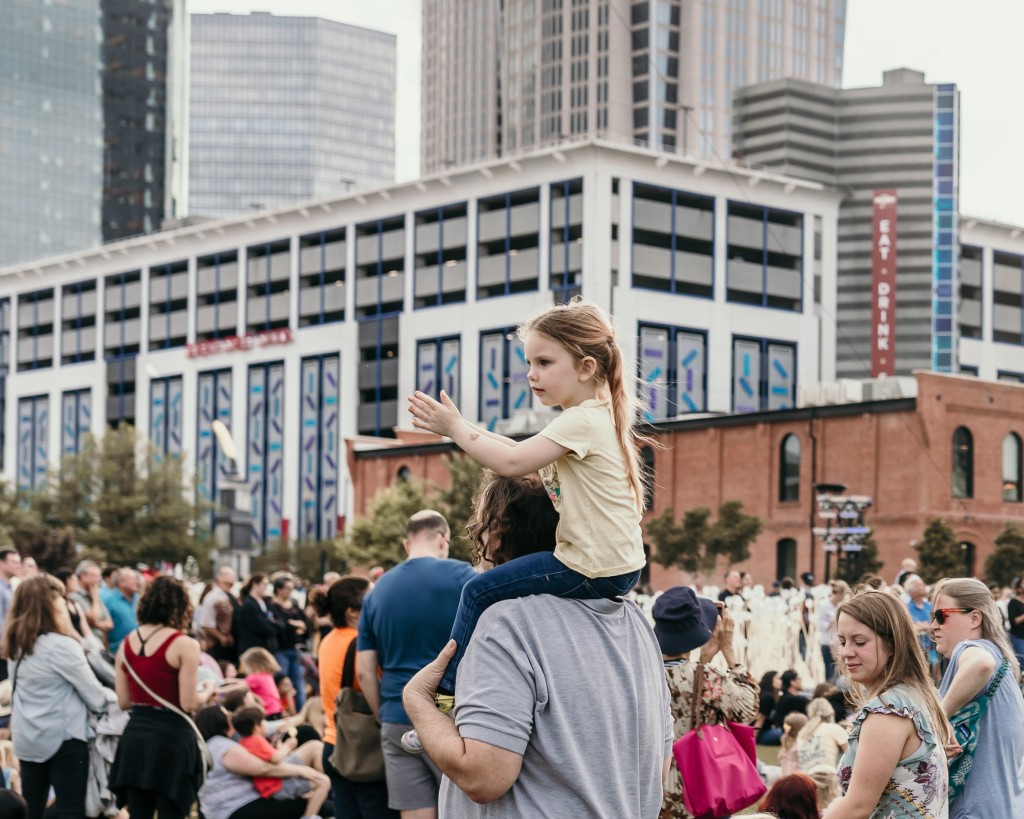 When you walk through Uptown, there's a special feeling you get.
Maybe it's the glimmering buildings with cloudless Carolina blue skies overhead or the lush green canopy that provides just the right amount of shade. Or maybe it's the sounds of a bustling urban core that still manage to give you a sense of calm, or the smells of local fare beckoning you to have a taste.
Maybe it's the people—a diverse mix of business owners, residents, workers, and visitors—offering a warm and welcoming smile.
Rich in history (yes, some of it is hidden, but it's there) and culture and brimming with eclectic eats and events, Uptown is the heart of Charlotte, and we are its heartbeat.
Rediscover our city's ever-growing and -evolving Center City with fun ideas for everyone.
12 Ideas for Uptown Things To Do as a Family in 2021
Make it a mission: See how many you can mark off this year!
1. Teach young ones the stories of Uptown
View this post on Instagram
Take a self-guided tour through the city, or play tourist and book a guided tour with local experts from Charlotte NC Tours, C-Charlotte Tours, Queen City Rides, or Funny Bus City Comedy Tour.
2. Cheer on the home teams
View this post on Instagram
Take the family out to a ball game.
Home to three professional sports teams, Uptown Charlotte offers plenty of options:
3. Enjoy the outdoors + entertainment
Plan a Friday evening with the family at Victoria Yards at the corner of North Tryon and Seventh streets.
You'll find themed events (live music, outdoor movies, creative performances, etc.), food trucks, and beer from Resident Culture Brewing Company.
4. Discover Uptown's artsy side
Have a creative kid on your hands? On an Uptown ArtWalk, your family can indulge in the colorful origins behind the district's public art—both well-known and under-the-radar pieces.
5. Go green
Uptown Charlotte's urban parks and greenways make it easy to find something even the teens can enjoy. Rent Joy Rides electric bikes and get fresh air on one of Uptown's greenways.
For a mid-ride or post-ride bite, either grab lunch at 7th Street Public Market and set up a picnic on the lawn at nearby First Ward Park, or get food from Rhino Market & Deli and eat at Romare Bearden Park right across the street or The Green. Just remember to Leave No Trace and help keep our green spaces green.
6. Fill your calendar
There are always fun events popping up in Uptown—don't miss a thing when you check the event calendar periodically and add events of interest to your family's schedule.
If nothing else, definitely save the dates for September 17-October 3, 2021. This is when Charlotte SHOUT! will return to the city for a celebration of culture and creativity. During SHOUT!, Uptown Charlotte comes alive with soulful music, tantalizing food, mind-blowing images, playful installations, inspiring performances, and bold ideas. Learn more here.
View this post on Instagram
This hands-on science Museum features exciting interactive exhibitions, a larger-than-life IMAX Dome Theatre, and educational programs. If your kids really love the Discovery Place experience, consider signing them up for summer camp here or lock in the space for their birthday.
8. See artists at work
Who needs a career day when you can go straight to the source? Bring budding artists to the McColl Center for Art + Innovation, where you can see artists-in-residence working in their studios.
Check out Uptown's museums, too: this special Access Ticket includes admission to the Mint Museum (both the Uptown and Randolph locations), the Harvey B. Gantt Center for African-American Arts + Culture, and the Bechtler Museum of Modern Art.
9. Pay homage to NASCAR greats
View this post on Instagram
The NASCAR Hall of Fame is a high-tech entertainment attraction that honors the history and heritage of NASCAR through interactive exhibits, a 278-person state-of-the-art theater, summer camps, and more. There is a Buffalo Wild Wings restaurant on the property, plus the NASCAR Hall of Fame Gear Shop.
10. Stroll the weekly Farmer's Market
Show kids the value of hard work by supporting local farms and artisans at the weekly Uptown Farmers Market. You can stock your fridge for the week with fresh produce, meats, cheese, and more.
11. Do a desserts day
What child (or adult) doesn't love sweets? Get a taste of Uptown's sweeter side with a DIY Desserts Day—hit Crave Dessert Bar, Day & Night Cereal Bar, and Potts Chocolate, and share treats at each. You'll be walking off the sugar so don't worry about the buzz!
12. Bring stories to life at ImaginOn
View this post on Instagram

In the heart of the cultural arts district, ImaginOn: The Joe & Joan Martin Center is a one-of-a-kind destination for young Charlotteans.
Recently ranked by Livability.com as the No. 1 children's library in the United States, this collaborative effort between the Charlotte Mecklenburg Library and Children's Theatre of Charlotte is a 102,000-square-foot facility with two state-of-the-art theatres, a dedicated library space for kids 11-and-under, four multi-use classrooms, a teen-only library, a multimedia production studio, and interactive exhibit space.
Get out to Uptown this weekend and show your support for the businesses and people that make Uptown Charlotte the special place that it is. If you share your Uptown adventures on social media, be sure to use the hashtags #UptownCLT and #ShowUpforUptown!