Zombie Marshmallow Pops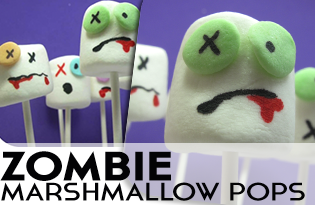 Supplies: 
-Marshmallows
-Lollipop sticks
-Toothpick
-Light corn syrup
-Large confetti sprinkles
-Edible writers (black and red)
-Baking tray
-Wax paper
Techniques:
-Put sweets on sticks
-Use sprinkles and candy
-Use edible writers
Directions:
1. Skewer the marshmallows with lollipop sticks. 
2. Use a toothpick to dab light corn syrup on the back of confetti sprinkles and adhere to a marshmallow. Rest the marshmallow on a baking tray lined with wax paper to dry.
3. Use the edible writers to draw eyes, mouths and blood, or draw Xs in place of eyes or mouths. Note some zombies only have 1 eye.
This fun recipe and more can be found in the book "Sugarlicious: 50 Cute and Clever Treats for Every Occassion", by Meaghan Mountford.