Your child's room – Clean or Cruddy?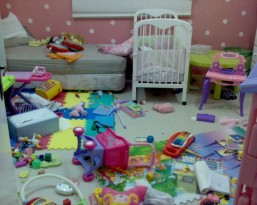 Parents have such good intentions when decorating their child's room. They find the perfect paint color, the best bedding, and all the special finishing touches. But that same bedroom often becomes a battleground. In a recent online poll of 1000 parents of 6 to 12 year olds, 90% of the parents responded that the condition of their child's room is the source of family discourse. 34% rated it as the reason for frequent fighting between the parents and child. If you are relating to these statistics, I thought I'd share some more data so you won't feel so alone:
53% of parents found food in varying degrees of decay in their child's room
25% of parents reported excessive toys, books, or games left on the floor
11% of parents found insects or animals (dead and alive)
11% of parents complained of dirty clothes strewn about
While these statistics show a definite trend towards messiness, a full 96% of the parents feel that a clean room is important for their child's health. There seems to be quite a disconnect there, doesn't it? 50% of parents vacuum their child's room once a week and 50% also said they shared the responsibility for keeping their child's room clean, although the study did not show how much overlap there was between those two groups.
According to Dr. Kevin Leman, a psychologist and New York TImes bestselling author of over 30 books on child and family issues, keeping the room clean should be the child's responsibility. However, only 37% of the parents polled said their child was soley responsible. Leman advises to set clear boundaries of acceptible levels of cleanliness that are consistent and manageable. While he notes that it may not be possible to have the room spotless day in and day out, he recommends selecting two days a week to inspect the room and make sure it meets the pre-determined parameters. He also stresses the importance of respecting their efforts and not be a control freak. Good enough is good enough. 
So where does your household fall on the clean room spectrum? Do you demand that your child keeps a clean room everyday or do you let it go? Are they responsible for cleaning it or do you pitch in? Please share your experience with other Charlotte Parents in the comments section below!
Barbara Green is the owner of Sensibly Chic Designs for Life and the host of Ask the Design Diva radio show. She believes you CAN have it all: kids, pets, and a beautiful home. Her showroom is located at
830 Lamar Avenue in Charlotte and is open by appointment only. Mention Charlotte Parent when you call 704-608-9424 to schedule your consulation and receive 30 minutes free!