Young Imaginations Run Free at Lost Hollow Children's Garden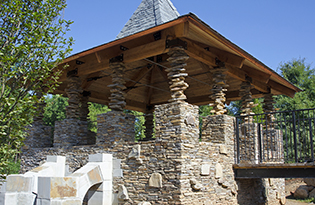 On Saturday, Oct. 18, Daniel Stowe Botanical Garden unveils Lost Hollow Children's Garden, beautifully landscaped around an amphitheater and a naturalized pond. Children can experience imaginative play within three acres artistically designed just for them, but engaging for the whole family.
Old European architectural elements from Daniel Stowe's estate are interwoven in a naturally shady garden creating lots of destinations for families to discover. Designed with sophistication, there are eight destinations that have been woven into the existing landscape – a true lost hollow. "It's a safe and natural experience," says Kara Newport, executive director at Daniel Stowe Botanical Garden. "We encourage children to step off the path and roll in the grass."
The Design
The Commons is your first destination. It is a circular gathering place where visitors pass over an all-seeing eye surrounded by six terracotta chimney pots.


Walk on over to Moon Keep, a tower of a castle, which doubles as an observation tower. You can survey all of the land then descend through flying buttresses to the next stop.


Look for the Fireplace Cave. It's actually an entrance to a five-foot high cave. Once inside, gaze upon a night sky complete with stars and a moon. Next up, is The Mantlet, a fort of sorts built of natural materials. Kids can frolic inside and secretly watch people pass by.


Wander down the path to The Aviary. Hop inside the seven-foot rotating enclosure that housed birds at Daniel Stowe's estate for a true feel of the place.

Beyond the hill is the Sunken Pond. Gaze into Sunken Pond to find a secret castle, and be sure to investigate Hillside Theatre, an amphitheater built into the hillside that overlooks the pond's floating stage that will host family-friendly performances.


As you make your way through Lost Hollow, you may wonder to yourself if there is an intended storyline that connects each destination. The true gem is that there is no story to uncover. It's entirely up to everyone's own interpretation, and that's exactly how internationally renowned landscape designer and artist W. Gary Smith intended when he created the unique children's garden. "Staff members have enjoyed developing their own stories and you might hear them along the way," says Newport. "We encourage visitors to use the given elements to spark their own imagination."
Good to Know
According to Newport, Lost Hollow is an interactive, natural experience for children. "The garden's features are sized and positioned for children to explore," says Newport.
Lost Hollow Children's Garden is geared for children age 10 and under. This portion of Daniel Stowe Botanical Garden should take a family from one-and-a-half to two hours to explore. Extend your experience at Daniel Stowe Botanical Garden at the Orchid Conservatory viewing orchids and luscious tropical plants or meander along Meadowood Walk for a more natural experience that follows a 3/4-mile path. On the trail, take the Woodland Loop to see an overlook of beautiful Lake Wylie.
Sara Kendall is a freelance writer and mom of two daughters who lived in Charlotte.

SIDEBAR
Grand Opening Celebration
Join Charlotte Parent at the grand opening of Lost Hollow, Oct. 18-19. Enjoy face painters, music, story time presented by Charlotte Parent and performances by the Grey Seal Puppets. Stop by the Charlotte Parent table for a fun fairy tale craft and giveaways. Purchase a bite to eat from Brixx Pizza, a cup of joe from the BoCo coffee truck or coconut water from Vita Coco. Saturday, Noon-5pm; Sunday, 9am-5pm. Admission is $6-12, and includes garden admission. View full details at dsbg.org.
SPECIAL READER DISCOUNT: Bring in the ad from pg. 32 of Charlotte Parent's October issue for free child admission with paying adult. (Limit 3.)