You CAN Have it All!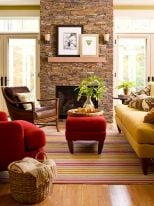 Do you keep putting off decorating because the kids are too young? Do you long for the days when you can finally have nice things? You don't have to wait any longer. You can have it all, kids, pets, and a beautiful home. It simply takes  some careful planning and low maintenance products:
Flooring – Avoid wall to wall carpeting. Spills and muddy feet are inevitable with kids, so why set yourself up for failure from the start? Instead, select easy to clean hardwoods, laminates, vinyl, or tile. If you want to warm up an area, select an area rug that is designed for outdoors. They are so amazing, when they get dirty you just drag them outside and hose them off!
Walls – Make sure you avoid flat paint. With kids you will be washing your walls regularly, and flat wall paint will not hold up to the wear and tear. Use an eggshell or satin finish for walls, and since the trim gets even more dirty go for semi-gloss on there. You can encourage creativity by painting one wall with chalkboard paint. They could explore their artistic side, work on homework, and they might even leave you sweet messages.
Sofas and Chairs – There are three really functional options for seating. The first is using distressed leather. The kids will only add to the distressed beauty of the leather.  The second choice is Microfiber. I call that the modern miracle fabric for families. I had a client whose child spilled red Kool-Aid on a tan microfiber sofa and it didn't stain! It just puddled up and she blotted it dry. Microfiber was originally available as a suede-like fabric, but now it comes in a variety of colors and textures. The third choice is slipcovers. Believe it or not, you can have white furniture and kids at the same time. Slipcovers made from a durable cotton or canvas fabric will wash up beautifully whenever disaster strikes. One last idea for upholstered goods is selecting patchwork pieces, where the body and the pillows are covered in different materials. That way, even if your child manages to create the stain of a lifetime, you can just get a new cover for the cushion or pillow and not have to worry about it matching exactly.
Occasional tables – The obvious thing to avoid with tables are pointy corners and glass tops. Upholstered ottomans make great coffee tables for family homes because they are soft when a child takes a tumble and also have hidden storage, and what family home couldn't use some extra storage? For those of you that want a solid coffee table, I like stone tops because they can stand up to a lot of torture. Wood is fine, too, as long as you are OK with a distressed wood finish, because with kids it won't stay pristine and smooth. That I guarantee!
Accessories – Big, bold, and heavy are the way to go here. This is not the time to be displaying delicate glass or crystal decorations. Instead, look for items made out of wood, metal or stone and your stress level will stay low even when they get knocked over accidentally.
My final piece of advice is to make sure your family's personality is reflected in the design. Include your hobbies, passions, and desires when selecting items for your home. Whether you have kids or not, it is imperative to surround yourself and your family with things you love. If you don't love it, or it is not a functional, necessary part of life, don't bring it into your home. Trends are great things to talk and write about, but don't be a slave to them. Be true to yourself and true to your family.
Barbara Green believes you can have it all: kids, pets and a beautiful home. She is the owner of Sensibly Chic Designs for Life and the host of Ask the Design Diva radio show, and insists you don't have to spend a million dollars to look like you did.