Yard Art Day
Let the kids use their creativity creating for the fourth annual Yard Art Day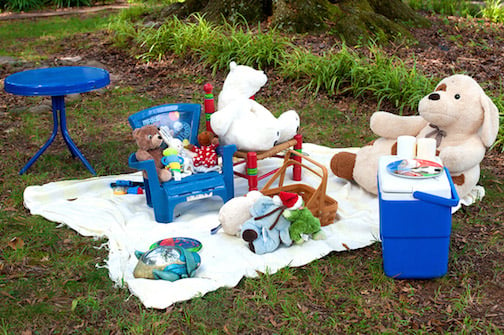 Labor Day marks the fourth annual Yard Art Day. Founded by photographer and imagineer Deborah Triplet, Yard Art Day is a grassroots initiative to get neighbors and families to use their creative ingenuity making masterpieces for the community to get out and about and see. It's art "curated by the community for the community," and just one more way that Charlotte is showing its creative soul.
From decorating your trees to hanging a painting, yard art can be anything you (and the kids) want to create. The art can have a theme or not. It can be interactive or not. Use balloons, recycle bottles and cans, decorate a bird bath, make a fairy house or village, paint and hang pictures from trees, or just let the kids use their imaginations and see what happens. The only real rule, is it needs to be visible from the street.
Yard Art Day participants tend to be concentrated in the Plaza-Midwood and NoDa neighborhoods, but the interactive map shows that you can find Yard Art Day creators/participants from Mooresville to Waxhaw. Be sure to register as a participant so you are added to the interactive map.
Find inspiration from pictures from past Yard Art Day events. Yard Art Day officially takes place 12 a.m. to 12 a.m. Sept. 7/Labor Day.