Wrapping Holiday Gifts: Think Outside the Box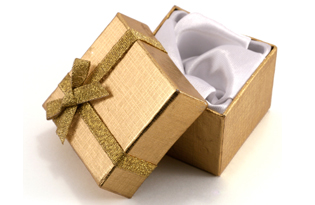 With the holiday season well underway, it's time to wrap those carefully chosen presents. According to a survey commissioned by Scotch brand tapes, one in four people wrap their holiday gifts one or two days before giving the gift, and another 22 percent wrap three to six days before the gift giving occasion.
As you gear up for the big wrap, you may have considered: Will the paper be red, green or feature a festive winter design? Will the bows be perfectly shaped and trimmed precisely? Do embellishments like holiday bulbs and sprigs of holly enhance the look of the wrap?
Mariangela Petrone – professional gift wrapper and winner of the 2010 Scotch Brand Most Gifted Wrapper Contest – offers these tips for thinking outside the box and creating personalized wraps that are as meaningful as the presents inside.
Expand your color choices:
Grab the recipient's attention with a colorful festive wrap, but don't restrict your choices to just traditional holiday colors. Experiment with bold hues such as blues and purples, keeping the recipient's favorite colors in mind. To add dimension and depth to a present, use the Scotch Gift Wrap Cutter to cut evenly-sized strips of different colored papers. Either layer them on the present or create a weaved pattern to use as gift wrap.
Think beyond paper:
Wrapping paper isn't the only material you can use to dress up your gifts. Cloth makes a great wrap, especially for odd-shaped gifts. Recycle old clothing, tapestries and curtains that have meaning for the recipient of the gift. Wrapping a box containing concert tickets in an old T-shirt from a concert you both attended will serve as a thoughtful reminder of a memorable event.
Try bold replacements for bows:
Looking to dress your package? Think beyond the bow and adorn the gift package with flowers, small toys or even candy. To take it a step further, personalize the embellishments for the recipient. For example, use a necktie instead of a ribbon for a male recipient's package. For a female recipient, use a necklace, broach or other piece of jewelry. Wrapping candlesticks? Candles and a candle snuffer can replace a bow.
View odd-shaped items as opportunities, not obstacles:
When one is face with wrapping an odd-shaped gift, the tendency is to run for a gift bag. Instead, give the gift a new shape. For example, with a little imagination, a pair of inline skates can be disguised to look like a Christmas tree by simply creating a triangle out of the gift-wrapping paper. Add paper ornaments and a star to the top, and your recipient won't want to ruin your creative wrap by opening the gift!
Don't be intimated by size:
If you can't wrap the gift in its entirety, dress it up. Wrapping large or bulky items such as a charcoal grill or suitcases can be easier than you think! Does the recipient of the grill love to cook? Create a paper apron out of a plaid gift-wrapping paper, complete with pockets filled with tissue paper. Giving newlyweds a new set of luggage? Dress one as a bride and one as a groom using black and white gift-wrapping paper, along with tulle and buttons as embellishments. ?
Mariangela Petrone ?is a professional gift wrapper and winner of the 2010 Scotch Brand Most Gifted Wrapper Contest. ?