WRAL Freedom Balloon Fest Lands in Raleigh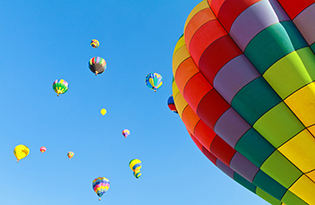 Imagine hot air balloons of every color and stripe sailing across a Carolina blue sky. Now, picture nightfall as the landed balloons offer a spectacular glow from their envelopes, like giant, colorful light bulbs turning on and off in a synchronized show timed to music.
Experience this and more for free Memorial Day weekend when the inaugural WRAL Freedom Balloon Fest lands in the Triangle of North Carolina. The festival includes more than 30 balloon pilots and teams from 15 states and overseas locations who are coming to compete. It also offers family fun at Zebulon's Bennett Bunn Plantation and Spring Forest Road Park in north Raleigh.
The festival got off the ground after organizers learned that a 35-year-old Greenville, S.C., festival folded, opening a spot in the balloon festival circuit for Memorial Day weekend. It has been more 25 years since the Triangle hosted a hot air balloon festival.
"I've seen the magic of what these events can do as a community resource and a cultural resource, bringing together families and folks from all walks of life to engage in something that uplifts their spirits, if not just their bodies," says Raleigh native Brian Hoyle, the festival's primary organizer. Hoyle has been smitten with aviation since age 7. He earned his commercial certification as a balloon pilot and now manages Hot Air Marketing, which organizes corporate hot air balloon events.
On Friday, May 22, festival attendees willing to wake up early can watch the balloons' mass ascent at 7 a.m. at the Bennett Bunn Plantation. The plantation offers a beautiful setting with gently rolling horse pastures.
"It's a great way to do a family breakfast and watch the balloons coming in to the festival site," Hoyle says.
Just after sunset, the plantation will feature a balloon glow — when the flames used to inflate them light up the fabric of their envelopes to create a beautiful kaleidoscope of colors.
Competitive balloon flights are also planned on Saturday, Sunday and Monday mornings at the plantation. Festival-goers can learn about ballooning up close through pilot meet-and-greet events, tethered balloon rides, and evening balloon glows Saturday and Sunday night at Bennett Bunn Plantation and Spring Forest Road Park. Of course, all ballooning events and activities depend on the wind and weather.
Special activities are planned to teach children about ballooning, including games that teach them about the accuracy that hot air balloon pilots must master during competitions, which are not simply races.
Hoyle says he believes hot air ballooning is a way to inspire children to give flight to their dreams and empower them to explore new fields.
"It seems to cross all cultural and socioeconomic boundaries," he says. "When I see children, for example, who are often referred to (as) at-risk, when they have an opportunity to see this, they stop looking at the world through the eyes of limitation and more through the eyes of opportunity. And I think that is what inspires children of all ages. It takes them to place where the world isn't quite so limited and many things are possible."
For more information, visit wralfreedomballoonfest.com.
Odile Fredericks is the web editor for Carolina Parent, a sister magazine of Charlotte Parent and Piedmont Parent.