Wine Cork Crafts
Five ways to repurpose your leftover wine corks.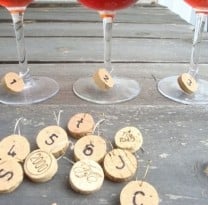 Considering the huge response to last week's post "New Life for Empty Bottles," I decided to continue with the theme and do a post about reusing the wine corks. After all, if you've got empty bottles there are probably corks around, too.
If you have lots of both you might just be imbibing with friends, and if that is the case, these wine glass charms will help you keep straight whose glass is whose. All you do is slice the cork and use a sharpie marker to label it with a letter or a number for keeping track. Use florist or jeweler's wire (available at any craft store) to wire the disk onto the glass.
Trivets have always been a popular craft for repurposed wine corks, but I really like how these corks are arranged into the shape of a bunch of grapes. It seems so fitting, almost like it is the circle of life. Simply glue the corks together with hot glue, and add a couple of silk grape leaves for the finishing touch. If you like the darker one, simply stain the corks using red wine. You can hang them on the wall or use them under the open wine bottles to catch any errant drips.
This next craft calls for A LOT of corks, but if you and your friends are up for it this would certainly make a grand conversation piece in your home. It is super easy to do, since all you have to do is glue the corks to the back wall. I would apply liquid nailes (available at your local harware store) to each cork and then place it on the wall. I particularly like this pattern, alternating horizontal and vertical directions. Once it is all dry, you can also use it to post notes on the wall. Maybe a wine shopping list?
Initials and monograms are very hot in design these days and you can create one made out of corks. Crafts stores sell large letters or if you are creative you can cut one out of foam core or a heavy piece of cardboard. Once you have the shape of the letter, cover it with corks using hot glue. A ribbon was added to this one for hanging on the wall, or you can break off the flip top from a soda can and glue that to the back for an invisible hanger.
The last cork craft is for the least crafty and the lightest drinker, since you don't need as many and you need no talent to creats it! All you need is one clear glass cylinder and a clear glass bowl that the cylinder can fit into, as shown. Simply stack them together and then fill the space between with corks. Now THAT is an easy craft. Place a votive candle inside the smaller cylinder to offer a warm glow to your new craft project.
Do you have any other crafty ideas for reusing wine corks? Please share them for the other readers in the comments section below.