Window Solutions to Help Kids Sleep Better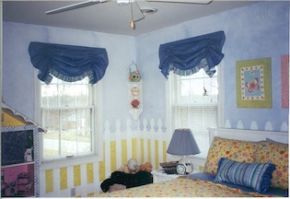 Would you like your kids to sleep later in the morning? Sometimes something as simple as changing the window treatments can help. Here are some things to consider.
1. Is the room too light? Daylight could be responsible for waking your child up. To keep the room dark no matter what hour of day or night, use room-darkening roman shades. These can be custom made in any fabric or color and can be relaxed or tailored.
2. If purchasing mini-blinds or wood shades, be sure you specify unrouted slats. This eliminates the holes where light can sneak in and disturb a good night's rest.
3. If exterior noises (trash trucks, lawn mowers, etc) cause the restlessness, a multiple layered window treatment will help. The more layers (i.e., shade, sheers, curtains with interlining) the more noise will be absorbed before disturbing your child.
4. A simple, room-darkening roller shade does an outstanding job of blocking the light and can disappear completely under a valance when room-darkening is not needed.
5. Pleated shades and cellular shades should be ordered with a cordless lift system. By law, newer corded shades have to feature breakaway cords to prevent accidental strangulation,  but if you're in a home that have had the blinds up for a while you may want to consider updating.
6. Do not use full-length draperies in a child's room. Not only have kids been suffocated by getting wrapped up in the lengths of fabrics, they are also at risk for pulling them down and having the curtain rod come down on their head. Ouch!
Hopefully these tips will help you find a window treatment that will help your child (and you) get a few extra minutes of sleep in the morning. Do you have any other tricks for getting your child to sleep longer? Comment below and share them with our other readers!
Barbara Green believes you can have it all: kids, pets and a beautiful home. She is the owner of Sensibly Chic Designs for Life and the host of Ask the Design Diva radio show, and insists you don't have to spend a million dollars to look like you did.