Where to go for Mother's Day Brunch in Charlotte: 2022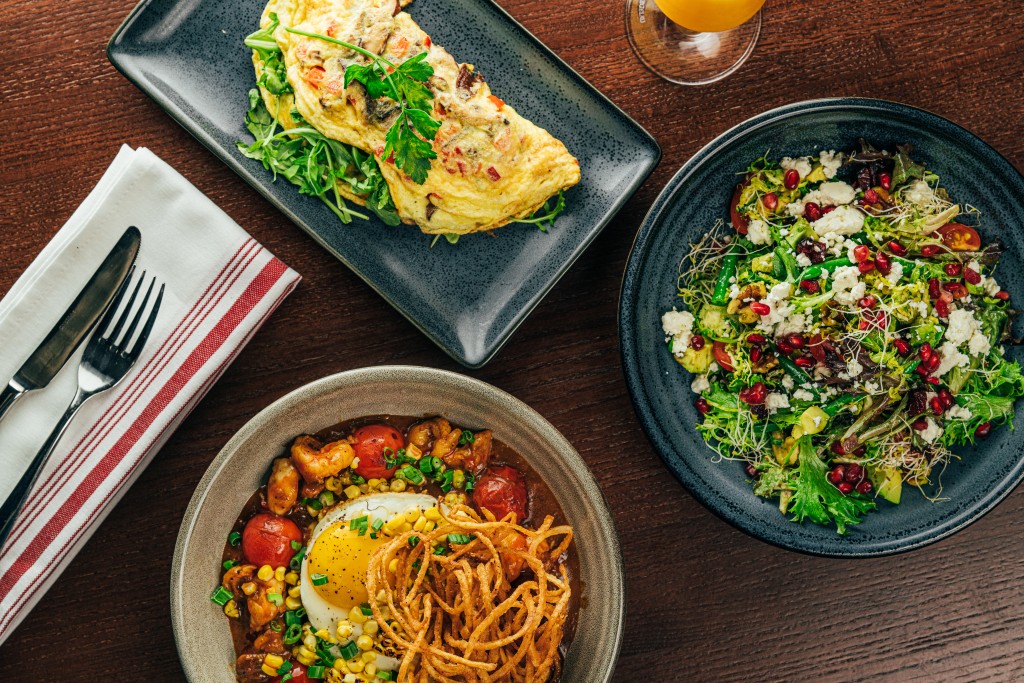 10000 Ballantyne Commons Parkway
Enjoy an a la carte brunch in the Gallery Restaurant from 7 a.m. to 3 p.m. or a buffet brunch in the Ballroom from 10:30 a.m. to 3 p.m. The buffet is $95 for adults, $45 for kids ages 5 to 12, and free for children 4 and under.
4310 Sharon Road
Indulge in a three-course, prix-fixe brunch menu from 11 a.m. to 4 p.m. All moms leave with a $20 gift card to use toward her next meal. Guests who come for dinner get a complimentary box of chocolate clusters to take home.
127 N. Tryon St.
Treat Mom to Church & Union's brunch buffet from 9 a.m. to 4:30 p.m. The cost is $60 per adult and $40 for children 12 and under.
4905 Ashley Park Lane
Come for DTR's "Brunch All Day" between 3 p.m. to 9 p.m. and feast on special menu items like cinnamon rolls and chicken & waffles.
4905 Ashley Park Lane
From 11 a.m. to 3 p.m., enjoy a three-course brunch with Southern-inspired favorites like bacon jam and baguette, pimiento cheese, and North Carolina shrimp. The cost is $85 per adult and $12 for kids.
1100 Metropolitan Ave.
Dressler's will serve a three-course brunch for $85 per person with menu items that include Wagyu flat iron steak and spring frittatas.
101 S. Tryon St.
Come to this uptown staple for a prix fixe, three-course brunch from 11 a.m. to 2 p.m. Sip mimosas and bellinis and feast on lobster quiche, jumbo lump crab, and steak and eggs. The cost is $49 per adult and $15 per child.
225 S. Poplar St.
Haymaker is offering a Mother's Day prix fixe menu for $45 per person. All tables have a 2-hour dining time limit in order to accommodate all guests. Make reservations for one of three seatings at 10 a.m., 12 p.m., or 2 p.m.
2839 Selwyn Ave.
Can't whisk Mom away on a vacation? Take her on a quick Mediterranean getaway at The Jimmy, where Chef Vince will serve a special four-course Mother's Day menu from noon to 6 p.m.
300 S. Tryon St.
Uptown's most stunning brasserie will have a brunch buffet from 9 a.m. to 4:30 p.m. The cost is $60 for adults and $40 for children 12 and under. A credit card is required for reservations.
South End, Huntersville, Arboretum
Enjoy the full brunch menu—including their popular mimosa trays—until 4 p.m.
901 S. Kings Dr.
Show Mom some fondue love with the Melting Pot's four-course set menu for $62 per person. A Little Dipper's menu is also available.
MICO at the Grand Bohemian Hotel
201 W. Trade St.
MICO will host a Queen's brunch on the Queen Terrace from 11 a.m. to 2 p.m. For $110 per person, guests can enjoy South American-inspired live music, chef stations, and a create-your-own mimosa bar. While you're there, head to the Bohemian Garden and make Mom a one-of-a-kind bouquet of hand cut flowers from 11 a.m. to 1 p.m. Take a family photo against the whimsical garden backdrop, or grab a seat and sip botanical-inspired cocktails and mocktails.
235 W. Tremont Ave
Take Mom out for a special Sunset Brunch at this South End hotspot. Menu highlights include Milkbread French Toast and Short Rib Hash.
7417 Waverly Walk Ave.
The Porter's House will serve a three-course brunch from 11 a.m. to 3 p.m. for $75 per person, which includes tax and gratuity, and must be paid in advance.
6601 Morrison Blvd.
Celebrate Mom with a prix fixe, three-course meal that includes a pastry basket from Copain, plus your choice of appetizer, entree, and dessert. Brunch is $55 per person, dinner is $65 per person, and kids menus are available at both meals.
4425 Sharon Road
Steak 48 will open early for Mother's Day starting a noon and serve its full menu of fresh seafood, steak, sides, and desserts.
For the moms who prefer breakfast in bed, order a custom brunch package for Mother's Day weekend. Choose your flavor of family-sized quiche and dessert pie. Each meal comes with a lemon poppyseed pound cake. Packages are $65 and feed four to six people.