What's New for Babies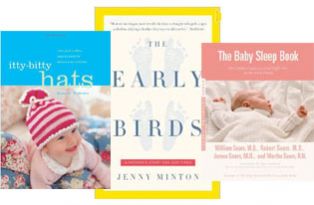 Heading Home with Your Newborn – From Birth to Reality
By Laura A. Jana, M.D. and Jennifer Shu, M.D.
Independent Publishers Group, 2006, $14.95
For parents who find themselves wishing their newborns came with instruction manuals, this guide may be the next best thing. Written by two doctors, this book is unique, not only because it offers advice from both the parent and pediatrician perspective, but also because it presents sound medical information in an interesting manner. The docs' lighthearted approach, with headings such as "Poop Happens" and "Into the Mouths of Babes" will surely offer consolation to first-time parents who find themselves overwhelmed by the first few weeks of life at home with their newborns.
Itty-Bitty Hats
By Susan B. Anderson
Artisan, 2006, $17.95
Got a lot of time on your hands until baby arrives? Learn to knit and create a cute, cuddly cap for your infant. Step-by-step instructions, materials and skills needed are outlined in this helpful book.
Baby of Mine
Chronicle Books, 2006, $19.95
This is not your typical baby book. With this beautiful keepsake journal, mothers can chronicle all of the precious developments of their baby's first year while also making personal reflections on how these special times are affecting them. The journal also provides space for mementos and photos, which makes this book a memory-making must-have.
The Expectant Parents' Companion: Simplifying What to Do, Buy, or Borrow for an Easy Life with Baby
By Kathleen Huggins
Harvard Common Press, 2006, $11.95
Today's average parent spends an astonishing total of $10,000 a year on diapers, formula, baby furniture and clothes during the first year with a new infant. And with so much hype from advertisers and conflicting advice from friends and family, this book comes to the rescue with clear, concise information. Huggins helps expectant parents prioritize what needs to be done to prepare for a new baby. It includes useful checklists for different stages of pregnancy and early months with baby, and a recommended reading list.
The Baby Sleep Book: The Complete Guide to a Good Night's Rest for the Whole Family
By William Sears, M.D.; Robert Sears, M.D.; James Sears, M.D.; and Martha Sears, M.D.
Little, Brown and Company, 2006, $14.95
The definitive guide to solving babies' sleep troubles, this book guides parents beyond their child's infancy into toddlerhood and right up to the transition to a "big kid" bed. The Sears' offer solutions for babies of all temperaments and parents of all lifestyles. Through their work with the Mother-Baby Behavior Sleep Laboratory at the University of Notre Dame, they explore the safety and emotional effects of different sleeping arrangements.
Body After Baby: The Simple 30-Day Plan to Lose Your Baby Weight
By Jackie Keller
Avery/Penguin Group USA, 2006, $24.95
Finally a post-pregnancy plan guaranteed to melt away baby weight safely and almost effortlessly in just 30 days from nutrition and lifestyle coach, Jackie Keller. Designed for busy moms, the plan is divided into three, 10-day phases with over 100 recipes, helpful shopping lists and more. As founder of Nutrifit, Keller has helped many Hollywood moms including Uma Thurman and Tia Carrere get back in shape fast and now you can, too!
The Tao of Poop: Keeping Your Sanity (And Your Soul) While Raising a Baby
By Vivian Elisabeth Glyck
Trumpeter Books by Random House, 2006, $16.95
The Tao of Poop presents 10 valuable life lessons that arise amid the messy days during the first years of a child's life. This "get real" advice balances humor and wisdom to soothe overwhelmed moms and put it all in perspective, providing a much-needed belly laugh and comic relief from the 24-hour shift that is motherhood.
The Early Birds: A Mother's Story for Our Times
By Jenny Minton
Alfred A. Knopf, 2006, $23
An emotional journey through the neonatal intensive care unit with author/mother Jenny Minton as her twin boys fight for their lives at only 31 weeks old. Minton delivers a powerful and painful narrative about conception and childbirth, overcoming personal guilt, confronting difficult decisions and describing glorious triumphs.
Products
PediPeds
The "Next Best Thing to Bare Feet" line of infant and toddler soft-soled shoes will surely please even the toughest tootsies. Pedipeds are both comfortable and cute, with 28 different styles, ranging from Mary Janes and loafers to athletic trainers and Western style boots. With a non-slip leather sole, the shoes are soft, pliable and easy to put on. Available in sizes 0 to 24 months. For more information call (880) 1245 or visit online at www.pedipeds.com. Prices vary according to style.
Nursery Tails
Crabtree & Evelyn
The folks at Crabtree & Evelyn have gotten together with pediatricians and dermatologists to develop a new line of children's bath products specially formulated for delicate skin. This special line is fragranced with a light aroma of geranium and rose along with a hint of powdery notes. The products range in price from $12 to $18 and can be purchased at www.crabtree-evelyn.com or area Crabtree & Evelyn stores.
Benson Birthing Rope
Designed by labor and delivery nurse Shirley Benson, this tool aids mothers in the birthing process. Using the idea that pulling can actually make pushing more effective, the rope is designed to give mothers something to hold on to as they engage in an exercise of tug-of-war with their caregivers. The rope is soft and easy to grip and has been known to shorten labor pushing time. To order the $69.99 product or for details, visit www.bensonbirthingrope.com.
Baby Love Collection
Brighton Accessories
This new line of stylish accoutrements from Brighton Accessories offers the perfect blend of sweetness and charm for displaying precious photos of your newborn. These lovely picture frames are detailed with intricate accents. Also available, are coordinating light switch plates, photo albums made of croco-embossed leather and baby charm bracelets. Products range in price from $30 to $60 and can be ordered on-line at www.brighton.com or visit the Brighton store at SouthPark Mall.
Clearblue Easy Fertility Monitor
Inverness Medical
Designed like a personal computer, this breakthrough product tracks and stores a woman's fertility cycle and highlights the days when she is most likely to conceive. The monitor bills itself as a 100 percent natural, non-invasive and easy to use system that can be used for several years. This product sells for $199.99 and can be purchased at retail drug stores nationwide or online at www.clearblueeasy.com
Preggie Pops
These little suckers help ease nausea and come in seven delicious, all-natural flavors including sour lemon, peppermint and lavender. Invented by health-care professionals for morning sickness relief. Available at Baby Elan in Ballantyne (704) 844-8820. $9.95 and up.
Huggies Gentle Care and Natural Fit Diapers
Two new products from Huggies will customize the diapering process. Cottony-soft Cuddleweave (available in sizes preemie, newborn, 1 and 2) will provide an extra gentle fit for newborns. These diapers are 20 percent more cushiony and have a new U-shaped umbilical cord opening for a younger baby's sensitive belly button area. Natural Fit diapers (available in sizes 3-6) are 10 percent thinner, with a flexible absorbent pad, hourglass shape and all-around stretch (in both tabs and across the waistband). Both retail for $9.95 for a jumbo pack.
Zoe b
A line of sexy tees, tank tops and hoodies with simple, fun graphics that make a statement designed by a mom in Winston-Salem. All Zoe b T-shirts are 100 percent cotton and produced in the United States and $1 of each purchase goes to the Grameen Foundation, an organization that helps women start businesses throughout the world. Retails for $36 at www.zoebonline.com.
Lavender Orange Shea Butter
From Brown Bag Botanicals, this is a vitamin-rich product that offers protection from harsh elements. Shea Butter originates from the shea nut of the African Karite tree and is known to contain vitamins A, E, essential fatty acids and cinnamic acid, to moisturize and heal all skin types from babies to adults. The real magic of shea butter is the way it works to help prevent and treat stretch marks. Get it online at www.brownbagbotanicals.com for $29.
Mustela 9 Months Skin Care Line
Ahhh, relief for pregnant Moms! Mustela offers the first complete skincare line especially formulated for pregnancy and post partum, with active ingredient lupeol, touted to stimulate collagen synthesis. Mustela's Specific Support Bust helps preserve skin's elasticity and suppleness, relieve tenderness and soothe breast tightness, and Instant Comfort Legs relieves heaviness and discomfort in legs while relaxing and immediately refreshing. ($19-$25) www.mustelausa.com.
Sidecar Slings
The only sling on the market with a hidden, internal pocket for stashing an extra diaper, keys or wallet, it also folds to a portable size and easily slips into a diaper bag. We like the hip fabrics and reversible design, so you can flip to a clean side when baby spits up on the others. Fits babies birth to 35 lbs. Available at www.sidecarrslings.com for $69.
Bebe au Lait
Super chic nursing covers for modern moms in 12 fashion-conscious prints on lightweight fabrics that are machine washable. Designed with a rigid neckline to hold fabric away from the body so you can view your baby while nursing, and a pocket discreetly holds nursing pads. Available for $35-$38 at www.bebeaulait.com.
Diaper Bag Express
A compact and flat gizmo you can pop into a tote, the trunk or seat pocket of your car. Dads can slip it in a backpack or gym bag. Inside are all the basics, plus a changing pad. Just re-stock when you're running low and you're ready to go! Available online at www.americanbabyshop.com for $36.
Swaddle Designs Blankets, Burpies and Blankies
Designed by an RN, who thoughtfully attached swaddling instructions to the generous 42-inch square receiving blanket. Made from 100 percent pre-shrunk, super soft cotton flannel in a trendy pastel blue and brown print. Also available in other styles and colors for $16-$26 at Nordstrom or Dilly Dally in Charlotte.
Media
One-Use Video Camcorder
CVS
If a camcorder isn't in your budget before baby's arrival, consider CVS's new one-use recorder. For less than $30, Dad can record 20 minutes of baby's birth or baby's first days. The recorder includes playback and delete features. Take the camcorder to CVS for processing and the resulting DVD can be played on your TV screen and/or e-mailed to friends.
Classical BABY
HBO
It's never too soon to be exposed to a little classical culture. At least that's the idea behind this new animated series from HBO. "Classical BABY" features music, art and dance from the likes of Bach, Monet and Balanchine that is sure to stimulate the imagination of your little tot. Who knows, you might even learn a thing or two yourself. Packaged with a collectable Gund plush toy, this DVD is available in stores for $19.98.
Sara Holliday's Prenatal Yoga (DVD) – First and Second Trimester
A DVD workout for the mom-to-be from "stroller workout" creator Sara Holliday that provides a comprehensive sequence of safe postures to tone, improve flexibility, strengthen and make you feel better and relaxed. She claims this workout creates a deeper connection with your baby. We believe it's worth a try! For $12.99 at www.fitbysara.com.
Compiled by Katie Moore and Eve White