What Took Us So Long?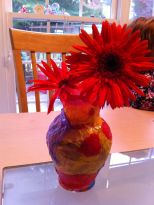 Something about Mod Podge has always turned me off. I don't know why – yes, the name is silly and for unknown reasons makes me think of The Partridge Family, but surely that's not a good enough reason.
Lately I've been seeing a lot of projects that seem like they'd benefit from the use of a simple, sticky sealant, and there it was … right beside the fabric counter at Walmart. So I finally did it. I tossed a jar into the cart.
And now I'm hooked.
Amelia and I tried a simple Mod Podge project last week, just to see if we liked the stuff.  And by the way, she LOVED saying Mod Podge. Loved thinking of words that rhyme with "Podge." We had such a good time just TALKING about Mod Podge that I no longer think it's a silly name.
Anyway, back to the project.  There are variations on this all over the web, with gorgeous results.  We made it super simple and still had gorgeous results.  You will need:
• Mod Podge.  This comes in various finishes, we happened to use a glossy one.
• Some old jars or glass containers.
• Tissue paper
• Paintbrush
First, tear up the tissue paper.  Really shred it to pieces. You could cut purposeful shapes with scissors, but we mostly just tore it up and made a very satisfying mess right at the beginning.
Next, cover the outside of a jar with mod podge.  Just slather it on with a paintbrush, the thicker the better.
And finally, stick the tissue paper pieces to the jar, smoothing each piece with another layer of mod podge applied to the top of the paper.  You can overlap colors, shapes, leave blank spaces or cover it all…it really doesn't matter.  The important thing is to cover the ENTIRE finished surface with a coat of mod podge, and then leave it to dry for a few hours.
When you don't see any more streaks of white, it's completely dry and ready to use. Amelia filled the vase with water and flowers, and dropped some battery operated votive candles into another to make a lantern.  She uses one to store colored pencils at her easel, I have one at my desk for supplies, and there's another in general circulation around the house, right now filled with play flowers.  You get the idea…these things are versatile, and so colorful and cheerful you'll want them in every room.
Mod Podge…where have you been all our lives?
Things we learned:
• Most online versions of this project suggest using glass jars or containers. These turned out great. But we also used a cardboard breadcrumb canister, and it turned out equally well and makes a terrific storage container for straws.
• One of the jars we used had raised lettering on it.  Can you pick it out?  Neither can we. As long as all the paper labels are removed, any jar should work.
• Amelia didn't always completely smooth out the tissue paper, and she used some fairly large pieces on the vase. Once it was dry, this didn't matter at all, and the wrinkles add a nice texture to the finished vase.
• I've seen some suggestions that you can do this with watered-down glue, and other variations of homemade Mod Podge.  The Artful Parent did a side-by-side test of homemade and original Mod Podge, and I don't need to repeat this experiment. I'm a believer. Embrace your 70's Partridge Family-lovin' self and spring for the Podge!
Want more Mess?  Visit Melanie's blog, or find her on Etsy.