What Parents Should Do on a Date Night in Uptown
The first entry in our new series: Kid-Free in the QC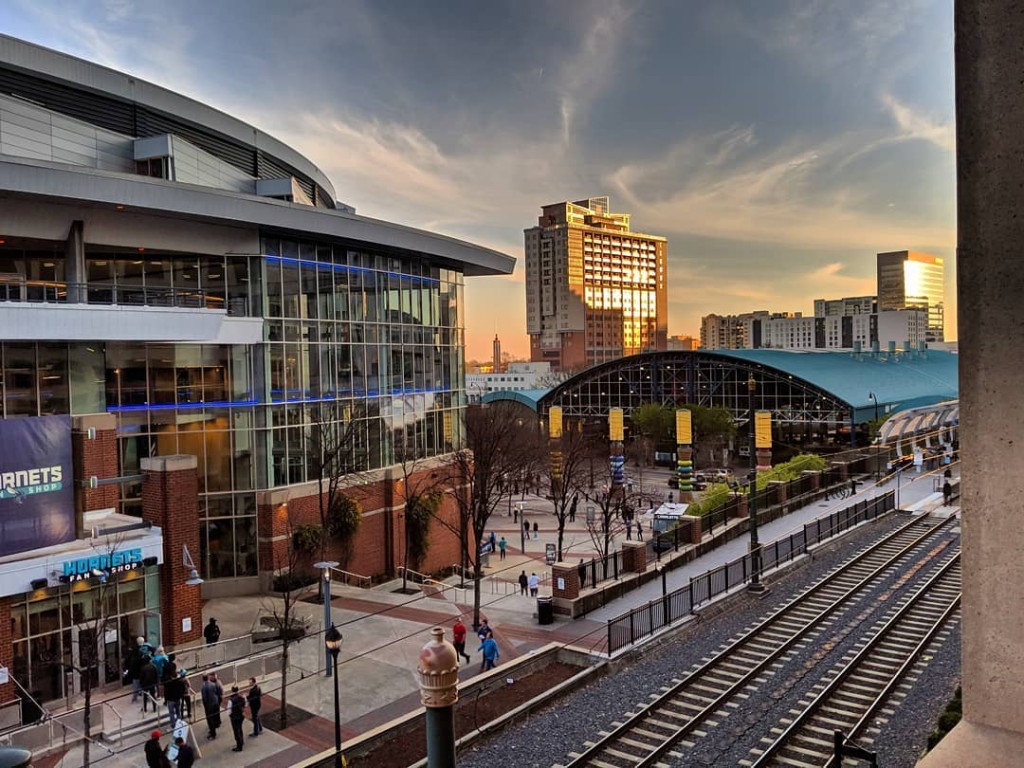 As a parent and Charlottean, you probably know uptown either as your daily go-to for work or for it's kid friendly attractions like Discovery Place, Imaginon and the spraygrounds at First Ward park. Whether you're new to the area or can call yourself a long-time local though, uptown has plenty of new and exciting attractions to offer adults when they find themselves kid free for the day. If you're interested in exploring the heart of the city sans kids, check out the ideas below for crafting the perfect kid-free uptown day.
Start at a Museum
If you're interested in art, start your uptown day at the Bechtler Museum of Modern Art, the Mint Museum, or the Harvey B. Gantt Center for African American Art + Culture, where you can browse works from local and world-renowned artists alike.
The mission of the Bechtler, named for the family that is sharing its treasured Modernist collection with the city, is sharing its art "so everyone can be inspired, informed, and have their cultural and intellectual life enhanced." The Museum is open everyday but Tuesday and offers a plethora of special events throughout the year.
At the Mint Museum you'll find 145,000 square feet of American art, European art and art of the ancient Americas,as well as special exhibits and collections that rotate throughout the year.
The Harvey B. Gantt Center for African American Arts and Culture features art from the likes of Romare Bearden, Henry Ossawa Tanner, Elizabeth Catlett, Jonathan Green, Jacob Lawrence, Ann Tanksley and Hale Woodruff, as well as special exhibits throughout the year. Explore the museum independently with your significant other or consider opting for a guided tour led by a museum educator who will support your understanding of the historical and cultural context and significance of the art you explore.
If your interests lie more in local history than in the arts, visit the Levine Museum of the New South. A must-see for both locals and those new to the area, this museum gives visitors an in-depth look at the new south from the end of the Civil War in 1865 to today. The museum's permanent exhibit, Cotton Field to Skyscrapers showcases stories of reconstruction, the economic transformation from agriculture to industrialization, the Civil Right Era and the booming growth of Charlotte today. In addition to this main exhibit, temporary exhibits explore a range of stories about Charlotte both today and in the past.
Cool Off by a Pool
The Craft City Social Club is the area's only poolside club and offers both a bar and full menu in addition to a range of games and entertainment options. The Craft City Social Club is as relaxed as it is fun and offers private cabana rentals every day of the week, as well as a complementary game area that includes billiards, fuse ball, darts, shuffleboard and life-sized Jenga. The Craft City Social Club is located at the Sheraton Charlotte Hotel.
If you're looking for a quieter pool experience and have a little extra cash on hand, consider renting a room at an uptown hotel that has a private rooftop pool. The Hyatt House Charlotte Center City and Holiday Inn Center City, both steps from the museums you visited in the morning, both offer beautiful, private rooftop pools that guests can assess throughout their stay.
Grab Drinks Somewhere You'd Never Take the Kids
While Charlotte has a number of kid-friendly breweries, there are some places you'd never take the kids like Sophia's Lounge.
Sophia's, named for Queen Sophia Charlotte, is located on 5th Street in the Ivey's Hotel and was voted best place for a date night in 2019 by Charlotte Magazine. At Sophia's, you can enjoy sipping on craft cocktails while snacking on small plates and talking about anything but the kids. If you enjoy sitting at the bar you'll love Sophia's wraparound bar or, if you're looking for a more intimate experience, consider settling into a velvet sofa.
Dinner With a View
Fahrenheit, located above the sky condos on Caldwell street on the 21st floor offers a fantastic view of the city. If you're more interested in drinks and bar snacks, consider City Lights Rooftop in Le Meridien on McDowell Street which offers a full bar menu and a street-food inspired food menu.
Before heading home, consider taking one last stroll (or scooter ride) around uptown as evening turns to night and the crowd become more energetic. While you might frequent uptown by day, there's something special about strolling the city by night when you don't have work or kids to worry about.
If

the Babysitter Cancels

If you've planned the perfect date only to find out that your babysitter is canceling last- minute, you can make a few modifications to the plans above and still rock your (family) date date uptown. The museums are kid-friendly, and after a tour, head to the spraygrounds at First Ward Park. After that, you'll want to find a family friendly location for dinner. If you have a picky crowd, 7th Street market has something for everyone and a fun, engaging atmosphere.

Julia Pelly lives in southeast Charlotte with her husband and two young children. When she's not writing, you can find her hiking, exploring the city with her husband or pushing her children on their backyard swings. Find more of her work at juliapelly.com.