What a 'Day of Yes' Looked Like for This Charlotte Parent
A tradition for a writer's family means letting her kids control the day's activities. This was the sprawling result.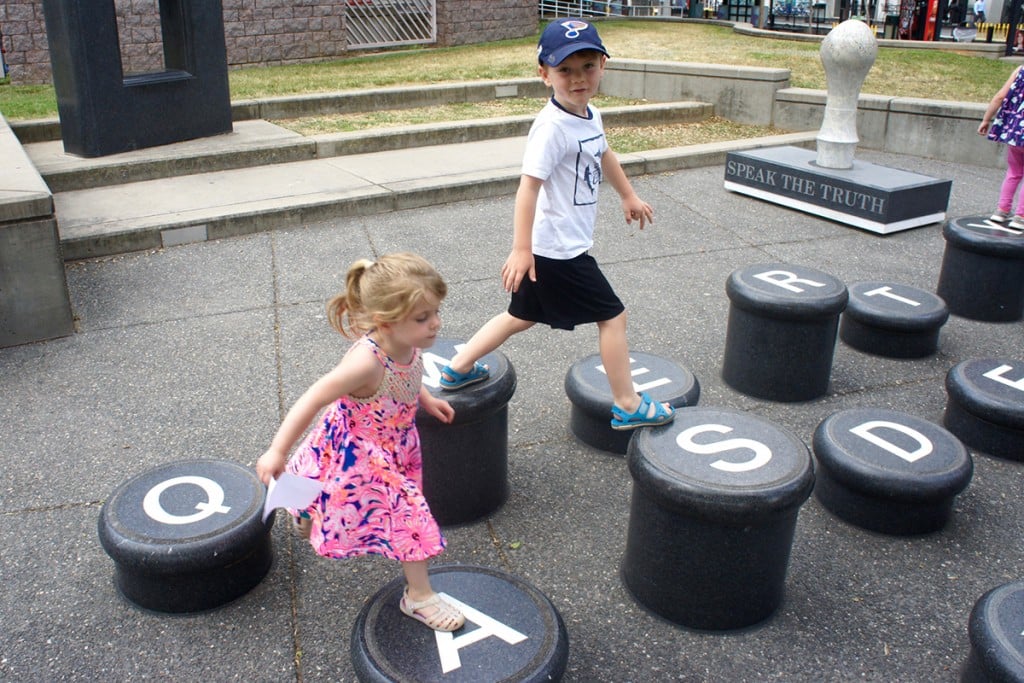 Two years ago I started a tradition with my kids called "Day of Yes." The rules are pretty straightforward: They get to decide what we do all day, and I have to say yes to whatever they propose. Luckily they're both still at an age where their requests are easy enough to grant. At 5 and 3, nobody is asking for a pony or a tattoo—yet. (If we're still doing Day of Yes in a few more years, I imagine I'll need to set some parameters.)
I plan Day of Yes after their last day of school, when we're free of schedules and ready to break up the routine. This year it started at 6:30 a.m. when my little monkeys jumped into bed with me and asked to go to Dunkin' Donuts. Naturally they each picked the most colorful (read: disgusting) mound of frosting and sprinkles they could find, because any other day of the year the answer would be no. They may be little, but they're no fools.
Our next stop was the King's Drive Farmer's Market to hunt for the world's biggest watermelon. After we all agreed we'd found a winner, they asked to go to Barnes & Noble, so I gave each of them a $10 gift card to pick out a new book or toy. Once they tired of playing at the train table in the children's nook upstairs, my son asked if we could take a ride on the "grown-up" train—aka the light rail—which he'd been begging me to do for months. It was as good as a ride at Disneyland, only cheaper, since kids 5 and under ride free.
We got off at Seventh Street Station and went to ImaginOn to see the Mr. Potato Head exhibit, which featured a Spud Safari (I swear I'm not making this up), and a table full of Mr. Potato Head parts where the kids could customize their own character. When they were ready for lunch, we headed across the street to the 7th Street Public Market, but the life-sized typewriter keys outside the library demanded a detour. Clearly the answer was yes.
After we all spelled out our names a few times, lunch was priority again, so we did a lap around the uptown market to survey our food options. My son asked for a sushi burrito at Bonsai Fusion because he has the palate of a Michelin star chef. My daughter, whose palate isn't quite so evolved, opted for a cheese crepe at Hazelnuts Creperie, which has a great kids menu for pickier eaters. The best part? There was no arguing over where we would eat because we could all chose exactly what we wanted.
As we finished lunch they spotted the sprayground at First Ward Park across the street, so of course the answer was yes. My daughter squealed when she realized she could see uptown and run through the splashpad at the same time. I may or may not have followed her lead.
When we were sufficiently splashed out, we hopped back on the light rail and took it to NoDa for some gelato on a stick at Popbar, because I think we can all agree there's no such thing as too much sugar on Day of Yes. And since all three of us love to explore Charlotte's murals, we took a stroll around NoDa to take in a few more.
By five o'clock we were all sweaty and exhausted, but with almost four more hours of daylight left, the kids weren't done. So we met my husband at Sycamore Brewing for an early dinner. Mommy got a much-needed adult beverage, and the kids got to partake in Food Truck Friday. My son selected the barbecue sundae at OooWee BBQ (which is basically a meal in a cup, and just as awesome as it sounds), and for my daughter it was mac 'n cheese, because, well…homegirl knows what she likes.
We grabbed a communal table, made some new friends, kissed a few babies, loved on some puppies, and danced to live music on the patio. I didn't check my phone once. And the kids never asked to see it either.
My children think Day of Yes is their reward for completing the school year. But the truth is, it's my day to be the fun parent—a title generally reserved for dads. For one whole day, I get a break from being the rule enforcer, the schedule keeper, the one who has to set limits all. the. time. I get to enjoy their company and see what gets them excited when the day belongs to them. Like a lot of moms I know, I'm convinced their most vivid memory of me will be yelling at them to hurry-up-and-get-on-your-shoes. So my hope is that Day of Yes—and Fun Mommy—will be etched in their memories too.