We're Late, Again!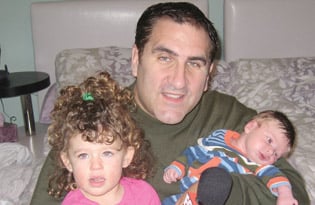 Watching the Red Sox and Yankees take four hours to play nine innings is time-consuming. And the final minute of an NBA game sometimes seems to take forever. But I'm learning what really stretches on and on and on, is trying to leave the house with kids. No matter when my wife and I get Sage, 3, and Brayden, 6 months, ready, it seems we either just barely get to our location, or worse, we're 10 minutes late.
Now, my wife and I are both very conscientious about getting to our destination on time. But as our household has grown, our number of on-time arrivals has shrunk. There are several reasons. First and foremost, is the dreaded bathroom trip. Both the kids are still in diapers and pull-ups, so we always feel we have to change them right before we leave so there aren't any emergencies where resources are limited.
Then there's the food issue. Sage is a slow eater. Let me repeat that: Sage eats slooooooooooooowwwww. And, it can be near impossible to let a 3-year old know that the time is ticking away. It's like waiting for a TV Timeout to finally end, so action can resume on the playing field. Brayden, on the other hand, tends to eat fast, in big gulps. Unfortunately, the food tends to go everywhere. By the time we're finished cleaning him up, a quick glance at the clock shows we're going to be late, again.
Finally, sheer silliness can cause things to go in slow motion. I put on Sage's shoes, head over to the other side of the room to take care of something else, and when I come back, Sage has tossed her shoes halfway across the room … and she's looking at me with a smile that is half mischievous and half cute, but 100 percent adorable. I mean, it's impossible to get mad at her. It's similar to how you feel when you watch your favorite team make another mistake, but then they end up winning anyway.
Meanwhile, Brayden has gone from happy to upset, because his pacifier has shot several yards out of his mouth. It might make us late, but I think Brayden has a real future in the Fourth of July 4 watermelon seed-spitting contest.
I find myself thinking back to the days when I was younger. I usually would procrastinate, before getting things done. What was I thinking? I wasted so much time. Maybe that's a lesson I'll teach my kids when they get older. Then again, if they are anything like me (and they are my kids), they'll probably do whatever they want anyway. Just wait until they become parents, and I'm the grandad. I'll get the last laugh, in fact I'll … oops, better run. Sage just threw another shoe.
Bruce Snyder is the sports director at Fox Charlotte. He lives in Charlotte with his wife, Charisse, daughter, Sage, and son, Brayden.