Welcoming Refugee Families to Charlotte
How family-to-family support makes a difference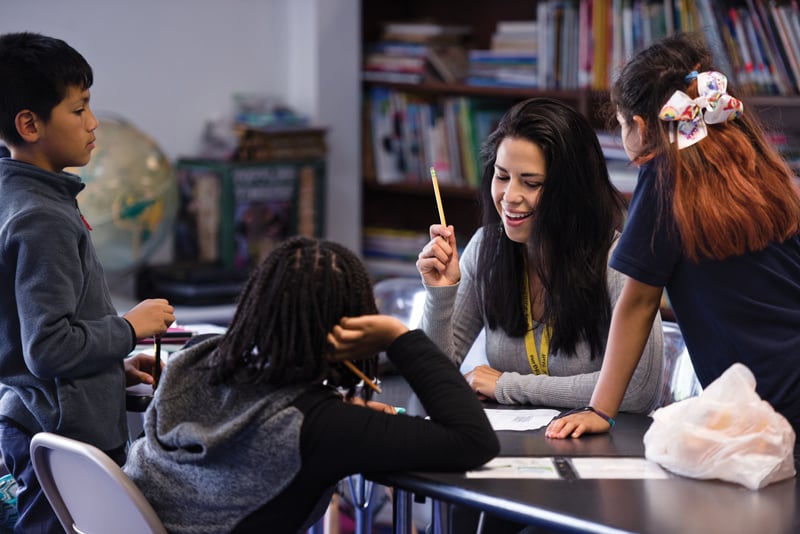 When Babin arrived in Charlotte from Nepal, he was just 4 years old. He remembers feeling overwhelmed by his new surroundings and having trouble understanding everything that was happening around him during his early weeks and months in the United States. In 2010, soon after Babin's arrival, he started kindergarten and began attending a daily after-school program called that was called The Bridge.
Now called ourBRIDGE, this local organization serves refugees, immigrants and first generation children in kindergarten through seventh grade. "ourBRIDGE gave me a place to feel at home," says Babin, "when I was at ourBRIDGE I didn't feel alone and I started to settle into life in Charlotte."
According to the Pew Research Center, the United States admitted 84,995 refugees in 2016, the year with the most recent complete data. Of those nearly 85,000 individuals, between 600 and 700 were settled in Charlotte. While the number of arriving refugees has dropped in the last 18 months due to new restrictions and a ban on refugees from certain countries, it's estimated that there are close to 17,000 refugees currently living in the Charlotte area.
The refugee families who call Charlotte home hale from all across the globe; they have diverse backgrounds, varied circumstances and a whole lifetime of unique experiences. The one thing these individuals all have in common is that they are unable to return to their home country because of a well-founded fear of persecution due to race, membership in a particular social group, political opinion, religion or national origin.
With the recent debate around the United States refugee program, many nonprofit leaders worry that misconception about who refugees are and how they come to the United States impacts the welcome and support they receive once they arrive in Charlotte.
"The refugee vetting process is very through," says Marsha Hirsch, the executive director of the Carolina Refugee Resettlement Agency. "The majority of refugees are families that include mothers, father and children who were willing to make the dangerous journey to the United Stated and wait, often for years, for the chance to have a better life."
When families in Charlotte learn about students at their child's school who are refugees, or drive by an organization that serves refugee families, they might feel empathy but they may not realize just how much they have in common with newly arrived families. They also might not know what they can do to help those who've just become Charlotte residents to feel welcomed and embraced by their community.
Family-to-family and parent-to-parent, we have a responsibility as a community to support those who have journeyed across the world to make Charlotte their home. We also have the wonderful opportunity to learn about countries and cultures that may seem unfamiliar, meet our neighbors and build lasting connections and friendships. Following are ways that your family can help support and welcome refugees right here in Charlotte.
About the Refugee Experience
One of the most important ways that local families can support newcomers is to get to know them. "Learning about the joys and challenges that refugees experience is one of the most important steps local residents can take to show their support," says Sil Ganzo, the executive director of ourBRIDGE. "When you learn about and appreciate other cultures, you're showing that you care."
One way that you can learn about the unique culture and experiences that refugees and immigrants bring is by attending cultural events held at ourBRIDGE, which aims not only to support newcomers and their families as they acculturate to the United States, but also to help the children they serve to celebrate the culture of their home nations. It's also important to make sure that your children are exposed to a range of people throughout their life. Working to increase diversity in schools, being intentional about participating in activities that draw diverse attendees and broadening your own social circle are ways to ensure your children grow up comfortable learning about others, sharing their culture and knowing how to be an ally.
Bust the Myths
Whether it's misconceptions about the refugee vetting process, confusion around how much government support refugees receive or a failure to recognize the myriad of ways that immigrants contribute to the community, it's important to speak up when you hear people perpetuating myths.
"Getting to know your newly arrived neighbors and spreading the world about how much richer our community is for their presence is a great way to help create a community that is welcoming and supportive," Ganzo says.
Connect With Support Organizations
Charlotte is home to a number of organizations that work directly with refugee families. These organizations do everything from outfitting apartments for newcomer families to providing school supplies and school uniforms to refugee youth and they need your support.
"At the Carolina Refugee Resettlement Agency, we're always in need of home goods, backpacks and school supplies" Hirsch says. "We've had lots of parents groups or church groups volunteer and are always grateful for the support."
Reaching out to the agency or organization closest to your neighborhood and engaging you neighbors in a group project are great ways to lend your support.
Use Your Talents
When it comes to supporting newly arrived children, you don't necessarily need to speak a second language or have a specialized skill. "Think about the things you're already good at and consider how you can use your talents to support refugee or immigrant families," says Mark Landon, the family advocate at Merry Oaks International Academy which serves a large population of newcomer families. "We've had volunteers who like sports and others who like to read to the kids. No matter what skills you have, you can make a difference."
Lobby for Newcomers
Due to myths and misinformation about refugees and immigrants, some communities and government officials are not as welcoming as they should be.
"At ourBRIDGE we call our supporters LERDs. LERDs are people who live by Love, value Education, Respect all neighbors and celebrate Diversity" Ganzo says. You can be a LERD by making sure that your representatives know what you value and asking them not to make choices that disservice everyone in the community. Reach out to your representatives by phone, email or U.S. mail to let them know that you value refugees and immigrants and that you are committed you are to supporting them in your hometown.
When newcomers arrive in the United States they often arrive with very few belongings and years of insecurity and trauma behind them. As a community, it's our job to help them feel welcome and to offer support as they transition to life in the United States.
"What I want people to know most about refugee kids is that we're just regular kids," Babin says, "We like to have fun, we work hard and we can do anything we set our mind to."
Julia Pelly works full time in positive youth development and lives with her husband and two young children in Southeast Charlotte.