Waterfall Hikes to do With Kids
Kids can chase waterfalls on these popular trails.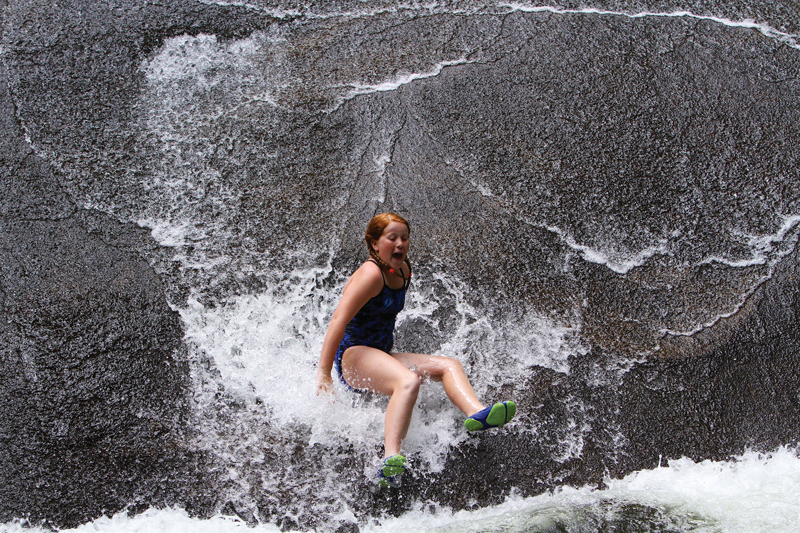 These parks all offer family-friendly hikes to beautiful falls. Pack a picnic and head outdoors and go chasing waterfalls across North Carolina.
1. Pisgah National Forest | Near Asheville, N.C.
Drive time: 2 hours and 45 minutes from uptown Charlotte.
Head to Pisgah National Forest outside of Asheville where you and your family can slide down a natural waterslide. Sliding Rock Falls pumps 11,00 gallons of cold mountain water a minute making a natural waterslide for adventurous types. There is almost always a wait to slide down, but the thrill is well worth it. Lifeguards are on duty from Memorial Day until Labor Day, and children under the age of 7 must slide with an adult.
After you've enjoyed some sliding, drive to Looking Glass Falls, a 60-foot waterfall nearby. You can view these falls from the parking lot or take the short trail down to the bottom.
Pisgah National Forests offers an array of waterfall hikes. The trails to Log Hollow Falls, Daniel Ridge Falls and Slick Rock Falls are each less than 1-mile one-way and are good hikes for little ones.
---
2. DuPont State Forest | Brevard, N.C.
Drive time: 2.5 hours from uptown Charlotte.
Dupont State Forest near Brevard offers some amazing waterfall vistas. Park at Hooker Falls parking area and take the short quarter-mile stroll to the bottom of the 12-foot falls. Here you'll find a great spot for swimming and wading.
If you feel like going for a hike, continue onwards. A half-mile from Hooker Falls is a vista of Triple Falls, three cascades with a 120-foot drop. If you go another half-mile you'll make it to the 150-foot High Falls.
---
3. Chimney Rock State Park | Chimney Rock, N.C.
Drive time: 2 hours and 15 minutes from uptown Charlotte.
Come to this state park to view one of the highest waterfalls east of the Mississippi River. Hickory Nut Falls is a 404-foot waterfall that is seen as a backdrop in the movie "The Last of the Mohicans." The hike to the falls is a moderate (only 1.5 miles round-trip) and kid-friendly. Stop and play in the water to cool down.
If your kids are still filled with energy head to the top of Chimney Rock. Normally there is an elevator that can take you through the mountain to the top but it is closed for repair until later in 2017. In the meanwhile, take the challenge and climb the 500 steps to the top of the rock. On a clear day you can enjoy a view of over 75 miles.
---
4. Stone Mountain State Park | Roaring Gap, N.C.
Drive time: 1.5 hours from uptown Charlotte
Stone Mountain State Park has a wondrous 200-foot waterfall, but be prepared for a strenuous 4.5-mile round-trip hike along the Stone Mountain Loop Trail to get there. Good for parents and older children.
Young children can enjoy the hike to Middle Falls instead. This 1-mile round-trip hike is listed as moderate and offers an extension to Low Falls if your group is feeling good.
---
5. Hanging Rock State Park | Danbury, N.C.
Drive time: Two hours from uptown Charlotte
Hanging Rock Trail is the famous hike of this park, a 2.6-mile round-trip moderate hike, but there are many other short hikes in the park with waterfall destinations.
Hidden Falls Trail is only .8 miles round-trip and is rated as easy. Lower Cascades Trail also is .8 miles round-trip but is labeled as moderate. For an even shorter trek, go to Tory's Den Cave and Waterfall Trail, an easy .4 mile round-trip hike. For a hike in the middle, go to Upper Cascades, a .6-mile easy hike. Though it starts off paved, the trail turns to gravel, so you may want to leave your stroller in the car.
---
6. Reedy River Falls | Greenville, S.C.
Drive time: 1.5 hours from Charlotte
For the urban adventurer, Reedy River Falls at Falls Park on the Reedy in Greenville, South Carolina lets families play by the water without leaving the comforts of city living. Reedy River, which runs through Falls Park, cascades over massive boulders in the heart of downtown Greenville. The falls are easily accessible with large rocks for walking on (at your own risk). Kids can float twig boats in the little pools of water that gather on the flat rocks near the base of the waterfall.
Talk a walk across the Liberty Bridge, a one-of-a-kind, single-suspension curved footbridge, for a bird's eye view of the falls. Bonus: You can buy lunch on Main Street and walk to Falls Park to picnic.