Water Bottle Flying Pigs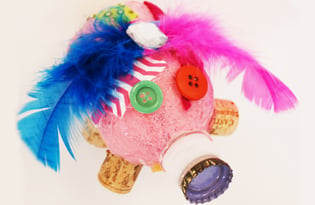 For centuries, pigs have had to walk to the market to get their roast beef.  But today's busy "on-the-go" piggies have found a more efficient mode of travel. Flying!
For modern aerodynamic piglets, the days of arguing over the mini-van DVD player for twelve hours on the way to DisneyWorld are o-v-e-r!  Sitting for an hour in the carpool line? I don't think so. Extreme para-sailing?  No problem. But it probably comes as no surprise that what they enjoy most of all is no longer having to travel over the river and through the woods to grandmother's house, which means more time for turkey and pumpkin pie when they get there!
Made from water bottles and other recycled items, these lightweight and environmentally conscious piglets are fun and easy to make at home!  Not to mention they are the hottest trend in hanging home décor since macrame plant holders!
You Need:
• An empty water bottle, like the one you probably just had in your hand.  Pigs are very social and don't like to fly alone, so we recommend making a few at a time.  The small kid-size water bottles work great for this project!
• Liquid starch (found in the laundry aisle at the grocery store), or watered down white glue
• Tissue paper, preferably in various shades of pink but most pigs are not picky
• Soft paintbrush
• Wine corks, small thread spools or other do-dads to make the pig's feet – get creative!
• Buttons, bottle caps, or jewels to give your pig the gift of sight
• Fishing line, yarn, or string to help your pig fly when it needs to rest its wings after a big meal
Optional, but highly recommended:
• Feathers (real flying pigs don't technically need feathers to fly, but it gives them some real street cred!)
• Scraps of fabric, yarn, or other glamourous odd & ends (if your pig likes to accessorize)
• A little piece of tulle to make a tu-tu (if your pig likes ballet)
• Glitter
How to Do It:
1. Use a hot glue gun to glue the feet onto the sides of the water bottle, so they are sticking out in a "look Ma, no hands" flying position.  Note:  Children should not use hot glue guns without an adult present, or they will get big blisters like the ones their art teachers always have.
2. Cut or tear small strips of pink tissue paper, and "decoupage" onto the water bottle by dipping the paintbrush into the liquid starch or glue, brushing onto the water bottle, and sticking the paper onto the bottle and brushing over it with more starch or glue.  Continue until the entire bottle is covered.  This part goes pretty fast.
3. Sprinkle with glitter while wet.  Allow to dry for approximately 30 minutes.
4. Glue on the eyes, nose, ears, and tail, along with any other accessories you wish.  Gussy up your piggy with some pretty fabric or a beautiful necklace!  Add feathers, and don't forget a tail (yarn or a pipe cleaner work great)!
5. Tie a long piece of fishing line or string around the pig's belly so you can hang it up in your room after you bring it to school for show-n-tell.
small hands big art is an art studio in South Charlotte that offers classes, camps and parties for children and young adults. Located at 8025 Ardrey Kell Road, Charlotte, NC 28277.