Warm Brie en Croute with Fig Jam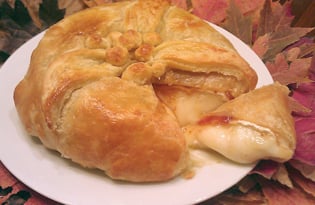 A Savory Sweet Treat
Young and old will love this easy-to-make Brie cheese and jam starter, from Chef Carrie Hegnauer Leonard, a chef instructor at Johnson & Wales University. Though simple to make, it's presentation and flavor have wow-power.
Warm Brie en Croute with Fig Jam
Recipe by Chef Carrie Hegnauer
Serves 8-10
INGREDIENTS
One whole 7-10 ounce wheel of Brie cheese
1 box of prepared puff pastry, thawed slowly
1 tablespoon high-quality fig jam
1 whole egg, beaten
1 tablespoon water
DIRECTIONS
Place Brie cheese in freezer for one hour (no longer) before you begin. Preheat oven to 400 degrees.
Lay out one sheet of puff pastry on a lightly floured work surface. Place the jam in the center of the pastry. Place the cool Brie cheese (without wrapper, but with white rind intact) on top of jam, on the puff pastry. Using a sharp knife tip – trim the dough to form a large circle much bigger than the cheese. Save the cut corner pieces.
Wrap puff pastry dough up and around the cheese and flip the whole thing over onto a lightly greased cookie sheet so the tucked edges are on the bottom. Brush the top and sides lightly with an egg wash (one beaten egg and 1 tablespoon water).
Use the left over corner pieces to make leaf shapes and press them gently onto the top of the pastry.
Bake for 15 minutes at 400 degrees or until golden brown. Serve with tasty crackers or bread
Carrie Hegnauer, appears regularly on Charlotte Today and hosts a culinary classroom series on Time Warner Cable's Carolina on Demand. You can find more of her recipes on CulinaryCarrie.com.
More Recipes from Charlotte Chefs:
> Oyster Stew
> Greek-style Greens Phyllo Pie and Baked Salmon with Braised Fennel and Local Greens?
> Bourbon-Pecan Encrusted Sea Scallops with Roasted Beets and an Orange Infused Vinaigrette Arugula Salad?
?
?