Valentine's Day Decorating Ideas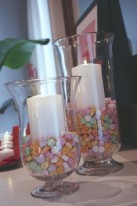 Valentine's Day is right around the corner. Why not spread the love in your home with these cute Valentine's Day decorations that can be crafted with your kids? The first one is so easy! All you need is a tall, clear vase, a pillar candle, and some conversation hearts – those cute candies with sweet messages on them. Place the candle in the vase and pour the hearts around the outside, going half way up the candle, as shown. It is so sweet, in more ways than one!
The next design involves a trip to the craft store for heart shaped wooden plaques, acrylic paint, a paint marker, and ribbon. Paint each heart in a different "candy heart" color, let dry, and then write a family member's name wiht the paint marker. This family has four kids, but if you don't, you can get creative and include pet's names or other loved ones on the project. Next, cut a long piece of ribbon and hot glue the hearts, spacing them evenly.  Add a bow to the top of the ribbon and hang on the wall.
This is a super easy craft that starts out with a walk in the woods. Look for fallen twigs to bring home and put in a vase. You and the kids can cut hearts out from a variety of pretty papers and tie the hearts to the twigs. For the finishing touch, tie some more ribbon around the vase. So simple, yet so pretty!
The final craft is one that can be a little messy creating, but will definitely be a family treasure forever! Start with a piece of wood (I recommend a section of 1 x 10 wood shelving) and paint it red. Once the red paint is dry, make a handprint and footprints using white paint, as shown. (For this sign, the handprint was from the older child and the footprints were from the baby.) When those are dry, go back and paint the letters "L" and "E". You will have this sign as an everlasting reminder as your children grow.
Do you have any special Valentine's Day decorating tricks? Please share in the comments section below.
Barbara Green is the owner of Sensibly Chic Designs for Life and the host of Ask the Design Diva radio show. She beleives you CAN have it all: kids, pets, and a beautiful home.  Her showroom is located at
830 Lamar Avenue in Charlotte and is open by appointment only. Call 704-608-9424 and mention Charlotte Parent Magazine to get a free 30 minute consultation.