Valentine Love for Kids' Rooms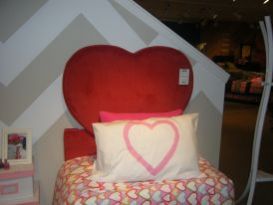 I am not a big fan of Valentine's Day. Instead of one day, spend EVERYDAY showing your love for the special people in your life. One way you can do that is with this giant heart headboard. How sweet would it be for guarding your child's journey through slumberland? It would be a daily reminder to them of your unconditional love.

If the heart headboard is a little over the top, a piece of heart art (right) would be a cute alternative. What makes this piece even more special is that you and your child can create it together. Simply cut a hollow heart stencil out of paper and tack it down on another piece of paper. Using a round sponge paint applicator your child can pounce different colors all over. Once the paint is dry, remove the stencil and you've got a beautiful piece of art and a wonderful memory toshare.
Reminders of your love don't have to be hearts, either. That might not be your child's "thing." But this sweet, heartfelt message (left) will still spread the love to your child every day, withoutneeding a heart to do it.
Do you have any unique ways you show your child love? We'd love to hear your ideas!
Barbara Green is the owner of Sensibly Chic Designs for Life located at 830 Lamar Avenue in Charlotte and the host of Ask the Design Diva radio show. She believes you CAN have it all: kids, pets and a beautiful home.