Vacation Deals: By Land, Air & Sea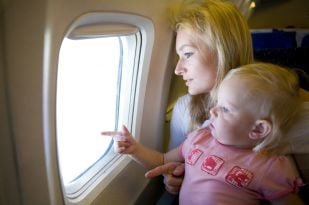 Staycation was the buzzword last year, and rightly so. According to the Bureau of Transportation Statistics, last year saw 16.7 million fewer U.S. airline passengers than 2008 — the fewest air passengers of the decade.
But 2010 offers a beacon of light. Because of the travel industry's desire to lure frugal families back to a vacation state of mind, there are travel deals everywhere. Savvy parents can find their dollar — and perhaps their family — going farther.
From the Beach to the Mountains
Marley Braun is famous among her friends for her vacation planning. The Cary mother of two even won a one-week Adventure by Disney trip to Costa Rica from ABC's "The View." Her biggest travel tip is to take advantage of off-season rates when choosing a destination.
"If we go skiing, we go out to Colorado in their off season at the end of March. They still have a lot of snow and the rates are much cheaper," says Braun.
Braun, who also enjoys cruising, would never consider a summer, peak-rate voyage. "October is cheaper, and it's technically the end of hurricane season, and the odds of bad weather are low," she says.
Carolina beaches in the fall also are a good bet. "We go off-season, and that tends to help with the expense," says Bridget Minor-Reynolds, a Winston-Salem mother of three.
National parks offer a great travel option for families, so keep summer vacation excursions to these much-loved sites on your radar. The Braun family has visited Yosemite, the Grand Canyon, the Redwood forest and the Painted Desert during shoulder seasons (just before or after peak times).
"If you go before the high season in July, you won't find (the national parks) as crowded," says Braun. Families with very young children can wait and take off in September after the school season has started to avoid crowds and get deals.
Other families find that far-flung locations aren't as expensive as the most popular spots, and offer unique educational and recreational opportunities. Nicole Peterson and her husband, Raleigh parents of a toddler, recently returned from Los Cabos, Mexico.
"Since having Lucas, we have taken him to Costa Rica once and Mexico twice, and of course local beach trips overnight," she says. Peterson researches deals on airfare and car rentals, as well as chooses accommodations that allow them to cook on site.
Hotels, Condos and Tents
Frugal travelers, the Petersons rent a home or condo, instead of staying in a hotel. "(The Mexico vacation) was also the first time we used Vacation Rental By Owner (www.VRBO.com). … We found that many renters were willing to negotiate — either by discounting the prices or adding free nights," she says.
Camping is another low-cost alternative. There are many highly rated campsites within a few hours of the area, says Brendan Byrnes, AAA Carolinas public relations manager in Charlotte.
"For example, in Myrtle Beach, there are four campgrounds that are rated 3 (the highest rating) by AAA, and they all have certain amenities. You can tent camp or RV camp, and an oceanfront site ranges from $40 to $70 a night." Most campgrounds have bathrooms with showers, and some even have snack bars, Internet connectivity and swimming pools.
"Camping is something people are doing more and more, as they are paying attention to the dollar," says Byrnes. "It can be fun for people who can get along in tight spaces. If you can survive a car ride, you'll be OK."
Families can visit www.AAAcarolinas.com to search campsites by location, and view descriptions, ratings and amenities.
Many families prefer hotels. Byrnes advises paying close attention to discounts. Automatic savings for AAA members are widely available.
Hotels often offer packages that include tickets to attractions, and allow guests to redeem hotel or credit card points toward future stays, food, or upgrades. "In this economy, some hotels are offering even better rates (than you would get with your AAA discount). No matter who you are calling, always ask about what deals are going on," he says.
At many resorts, two families can share a suite and split the cost. "We almost always travel with another family," says Braun. "For a beach vacation, it's much cheaper, and you have built-in entertainment for your kids."
Getting There
Flying is taking a back seat to driving, due to airline hassles and the cost of checking baggage. "Gas prices currently are sitting about $1 more than this time last year, but are still down from the peak in September 2008," says Byrnes.
If going by air is a must, ticket deals can be found if you're planning far in advance, as well as if you're looking for a last-minute getaway. Also, Web sites like Travelocity.com, Expedia.com and Orbitz.com provide information on multiple airlines and various travel dates to find the best fare.
For car rentals, exhaust all your options. Online sites often lump air travel and car rental into an economical package. AAA members get a discount at rental companies if they ask, and some corporate discounts extend to employees even when traveling for leisure.
Member shopping clubs also get reduced rates. "Costco offers discounts on car rentals, and as you know, renting a car internationally can be very expensive because of the required insurance," says Peterson, noting she and her husband ended up paying nearly half the price as what they found online for their trip to Mexico.
Food and Fun
Breakfast, lunch and dinner on the road add up quickly. Byrnes encourages families to find alternative ways to cook and eat while traveling.
"Bring a grill if you camp. A lot of people opt for lodging in suites, where you have a kitchen, so you can cook in the hotel room," he says.
Ask hotels about free breakfasts and restaurant discounts — both on site and at affiliated properties. Use the room mini-fridge to store leftover restaurant food, snacks and beverages. Putting dollar bills into the vending machine can quickly wear out the wallet.
When renting a condo or house, families can save money by only dining out a few nights. Cooking in also allows you to explore local stores and markets, says Peterson.
Ultimately, the most important part of traveling isn't saving money — it's enjoying spending time together. Look at the memberships you already have, such as Discovery Place, to see if there are reciprocal arrangements at museums, aquariums or zoos in your destination city.
Parks offer built-in fun — boating, hiking, rafting and rock climbing — and costs usually are minimal. Of course, the beach and the mountains are great family destinations, as playing outdoors can be priceless for vacation memories and your families' bottom line.