Using Letters for Decoration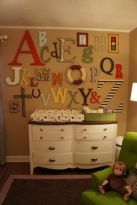 Letters in all shapes, sizes, and forms are hugely popular in decorating right now. Not only do they look great, but by surrounding your kids with letters, words, and phrases you are helping them learn and develop language skills. You can start with the entire alphabet or simply with their name, attaching the letters directly to the wall, or hanging them from pretty ribbons or string.


You can also use letters to give suggestions or encouragement.


As your child's language skills improve, magnetic words can be a fun way to learn about sentence structure and grammar.


Kids aren't the only ones who can decorate with letters. A bedroom with this sentiment on the wall will surely give a child a feeling of security, knowing his or her parents are so deeply in love. Do you have a favorite family saying you'd like on your wall? I'd love for you to tell me about it!


Barbara Green believes you can have it all: kids, pets and a beautiful home. She is the owner of Sensibly Chic Designs for Life and the host of Ask the Design Diva radio show, and insists you don't have to spend a million dollars to look like you did.