Understanding Autism Spectrum Disorder
A deeper understanding and more accepting view.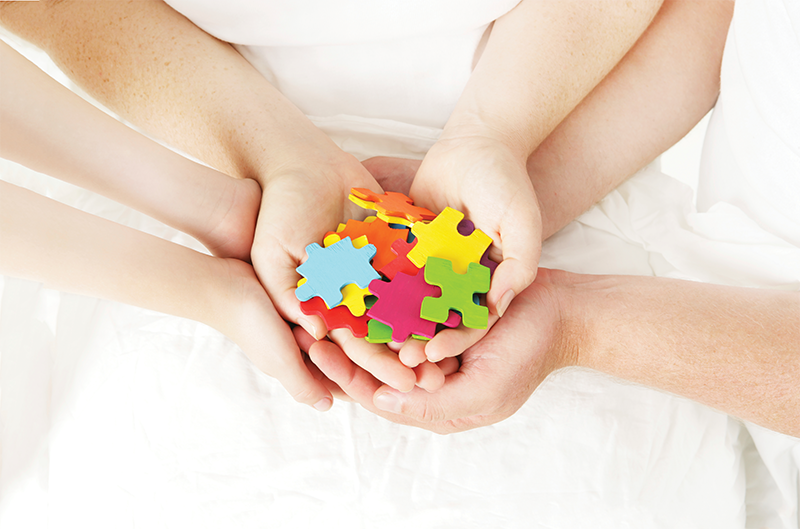 Thomas Jefferson. Albert Einstein. Isaac Newton. According to Charlotte-based psychologist Frank Gaskill, these creative, brainy leaders probably had Asperger's Syndrome.
Gaskill produces the "Dr. G Aspie Show," an online video series that covers a range of autism-related issues, and he has also written a graphic novel about a superhero with Asperger's. Gaskill's goal: Help individuals with Asperger's feel comfortable with their identity. "Part of that," he says, "is getting the message out to non-Aspies."
Asperger's, along with autism and certain developmental disabilities that can cause social, communication and behavioral challenges, are defined collectively as autism spectrum disorder. The spectrum is broad.
Thanks to therapists and doctors like Gaskill, as well as parents, teachers, advocates and adults with ASD, public awareness and understanding of this disorder has improved dramatically over the last few years. This means ASD is more likely to be recognized and diagnosed at an early age. It also means specialized treatment has become more accessible, and more time and money has been directed toward research into the causes, diagnosis and treatment of ASD.
---
Acceptance and Early Identification
Since 2000, the number of children diagnosed with ASD has risen from 1 in 150 to 1 in 68. In North Carolina, it's 1 in 58. Over the course of his 30-year career, Dr. Kurt Klinepeter, chief of developmental and behavioral pediatrics at Wake Forest Baptist Medical Center in Winston-Salem, has seen firsthand the increase in diagnoses of children with ASD and the changing public perception.
"A diagnosis of autism used to be a surprise," Klinepeter says. "Now families come in and bring it up on their own." This increase may be the result of improved efforts at diagnosis, a broader definition of ASD and/or more children with ASD.
Before 2013, doctors made separate diagnoses for autism, Asperger's, pervasive developmental disorder not otherwise specified and childhood disintegrative disorder. Today, in accordance with the fifth edition of the American Psychiatric Association's diagnostic manual (DSM-5), these disorders are all diagnosed as Autism Spectrum Disorder in one of three levels of severity. Mild cases (level 1) are defined as "requiring support," mid-spectrum cases (level 2) require "substantial support," and the most severe cases (level 3) require "very substantial support."
"Professionally speaking, it makes sense that these disorders are grouped together — the breadth of the DSM-5 definition helps doctors diagnose children at earlier ages, but the single definition is hard for lay people to understand," Klinepeter says.
The DSM-4 terms were in place for 20 years, and many doctors and families still find the terms, such as Asperger's, useful descriptors.
---
A Diagnosis of Difference
Klinepeter calls ASD "a diagnosis of difference." Every child with ASD has unique symptoms and needs. Some children appear to have ASD, when what they actually have is attention deficit disorder or a learning disability. Some children grow out of their symptoms, other children grow into them. Autism experts suggest that parents not take the "wait-and-see" approach. Early intervention is valuable — the earlier the better.
"There's nothing exclusive about behavioral therapy that couldn't be helpful for any language/learning problem," Klinepeter says.
In an effort to catch ASD early, the American Academy of Pediatrics recommends that every child be screened for developmental delays starting at his or her 9-month wellness visit. Even before that, parents should watch to make sure their child is meeting developmental milestones.
Symptoms can be spotted as early as 6 months and include concentrated interest in objects rather than people, less babbling than a typical infant, failure to respond when his or her name is called and decreased social smiling. At 12 months, a parent may see delayed gestures, delayed language and a failure to copy actions or sounds.
Older children and adults with ASD may have trouble with social, emotional and communication skills, and may display unusual behavioral tics, such as rocking and twirling, or self-abusive behavior such as biting or head-banging. Children with ASD tend to start speaking later than other children, though a high-functioning/high-IQ child (like the "Aspies" Gaskill referred to) might have good language skills by age 5, but use odd speech patterns, unusual accents and give monologues about a single topic without regard for the person listening.
---
Mentors and Support
A keystone of North Carolina's autism community is the Autism Society of North Carolina, which provides a broad range of support services. What started as a small group of parents in the late '60s is now a statewide organization with headquarters in Raleigh and offices in Asheville, Charlotte, Greensboro, Greenville and Fayetteville.
"We provide lifelong partnerships for families and individuals with autism," says David Laxton, director of communications.
Highly cognitive children with ASD might require less intensive, though no less critical support. Gaskill has found that his patients — ages 4-18 — respond well to social skills groups. "They come to these groups and you can see them breathe a sigh of relief — I'm home," he says.
Gaskill's goal is for these kids to be comfortable with their identity, which often includes addressing the bullying or misunderstanding they receive at school.
---
Treatment Options
Some treatments require hours of behavioral therapy every week and involve some form of applied behavioral analysis. In the simplest terms, ABA-based models work to change behavior by encouraging positive behaviors and discouraging negative behaviors. Popular ABA treatments include the Early Start Denver Model for children younger than 18 months, a relationship-based approach known as "Floortime," and the University of North Carolina TEACCH (Treatment and Education of Autistic and Communication-related Handicapped Children) program, which focuses on visual cues. Other treatments include occupational therapy, sensory therapy and speech therapy.
While there are no medications that cure ASD, some help with related symptoms. For example, some medications might help manage high energy levels, inability to focus, depression or seizures. Dietary treatments have also been developed, though they do not have the scientific support needed for widespread recommendation. An unproven treatment might help one child, but not another.
---
Educational Approach
There are also educational options. ABC of NC Child Development Center in Winston Salem, was originally conceived by a group of parents eager for services for their children with autism. The cohesive activism of that group is a hallmark of North Carolina's autism community.
"These parents are wonderful," says Selene Johnson, executive director of ABC of NC and a board certified behavior analyst who often goes to Raleigh with parents to lobby for various ASD issues, most recently for an autism insurance bill.
Cary mother of three Denise Sasseman chose to send her 6-year-old child, Oliver to The Mariposa School for Children With Autism in Cary. This nonprofit organization enrolls children ages 16 months through 16 years and attracts families from throughout North Carolina and beyond.
"We're one of only a few schools offering one-on-one applied behavioral analysis," says Jacinta Johnson, the school's director. "We set goals for each student: for one it might be to enter preschool, for another it might be potty training. We define success specific to each child."
For Sasseman and her son Oliver, success meant leaving The Mariposa School for Children With Autism to enroll full-time in public school. "We wouldn't have considered it possible a couple years ago," says Sasseman. "Oliver had no functional communication, and now he's thriving in public school. He gained so many skills at Mariposa. It's an amazing place."
Oliver is now receiving special services at his public school, Oak Grove Elementary in Cary, and Sasseman has been pleasantly surprised.
"It is often considered best practice to include kids with ASD in regular classrooms," says Leica Anzaldo, one of two lead therapists/trainers with the Autism Society. Anzaldo provides outreach and education to public schools throughout the state.
"We need to educate teachers and classmates about what it means to have ASD, and how they can help students with ASD learn and thrive."
In addition to providing training for public schools, the Autism Society, Mariposa School for Children With Autism and similar organizations provide in-home training to individuals and families.
"ASD is a family condition," Johnson says. "The entire family needs to understand their child's treatment so they can provide a consistent learning environment at home."
---
Cutting Edge ASD Research in North Carolina
North Carolina has several cutting-edge research centers exploring the causes and treatments of ASD, including the TEACCH center at the University of North Carolina, which specializes in community-based interventions; and the North Carolina Center for Autism and Developmental Disabilities Epidemiology, one of five national research centers funded by the Centers for Disease Control and Prevention.
The most recent addition is the Duke Center for Autism and Brain Development. The interdisciplinary clinical and research facility is led by Geraldine Dawson, former chief science officer for Autism Speaks, who developed and validated the Early Start Denver Model — the first comprehensive early intervention program for very young children with autism. She is also the author of several books on autism, including "An Early Start for your Child with Autism."
"We are still learning so much about autism, from early brain development to the other end of the continuum, adults with autism," Dawson says, noting that several hot topics being researched include genetic causes, environmental causes, drug treatments and gender differences (ASD is five times more common in boys than in girls, and experts are studying if this is because girls are underdiagnosed and/or if there are neurological differences).
"There is hope that in the next few years, some of the clinical trials going on now will translate genetic findings into drug targets," Dawson says. A Duke study seeks to determine whether infusions of umbilical cord blood — either that of the children themselves, or someone else's — can reduce core ASD symptoms. A second study is looking at the potential benefits of oxytocin, a hormone used anecdotally in smaller clinical trials. Dawson notes that the Duke Center would love to partner with families for their studies. They offer free diagnostic and clinical assessments for those interested in participating. To register to take part in research studies at Duke University, go to autismcenter.duke.edu/research/registry-autism-research.
Klinepeter suggests that parents who suspect their child might have symptoms of ASD get connected to services as early as possible. "There's a parallel system/universe for children with developmental issues," he says. "Inform yourself as much as possible. Understand that it's a condition that responds to treatment. Be steadfast and push for your child."
Sasseman believes it's worth the effort.
"We're so lucky," says Sasseman, of her son Oliver. "He's an amazing kid. He's got a great temperament. He works so hard. And he's happy — he wakes up every day filled with joy."
---
Caitlin Wheeler is a freelance writer living in Durham.
---