Turkey Wrap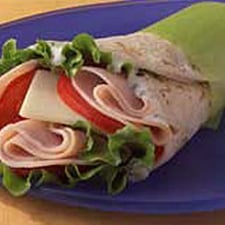 Try this tasty Turkey Wrap for an easy-to-make lunchtime meal. 
Ingredients:
1 medium tortilla (flour or whole wheat)
2 slices of turkey lunchmeat
1 slice of cheese
1 tablespoon ranch dressing
1 piece of cooked bacon
1 lettuce leaf
2 slices of tomato
Preparation:
Spread ranch dressing in center of tortilla. Top with turkey, cheese, bacon, tomato and lettuce.  Roll up tortilla and cut in half.  Place halves side by side in plastic baggie.
On the Side
Pack a half-cup of pretzel sticks and one cup of fresh fruit cut up into cubes and placed in a plastic storage container. Children can use pretzel sticks to eat their fruit pieces.
Refreshment
Place a pitcher of water with sliced strawberries and blueberries in the refrigerator overnight. Fill a water bottle with your "fruit water" in morning.  You can change up the fruit choices to provide a variety of fruit flavored water. Include one bottle of "fruit water" in the lunchbox.
> Healthy Lunch Checklist
> Back to Healthy Recipes