Turkey Sun-catcher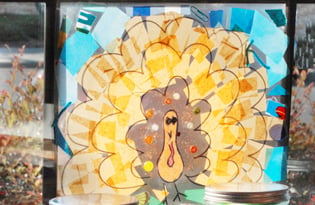 When you mention Thanksgiving crafts, do your children automatically start tracing their hands? Looking for something simple that will challenge their creativity a bit? As Thanksgiving crafts go, it doesn't get any easier than this colorful turkey sun-catcher, and it will add a bright sparkle to your holiday windows!
You Need:
Two small pieces of clear contact paper (approximately 12″ wide)
Tape
Tissue paper in a variety of colors, including fall hues of brown, red or orange, cut into small 1″ pieces.  You can get creative here – maybe your turkey is feeling inspired by some rainbow colors!
Collage materials and do-dads: glitter, buttons, paper and fabric scraps, sequins, yarn, etc. to add a little sparkle & pizzaz!
Sharpie and crayons / oil pastels
Scissors
How to Do It:
Separate the backing from one sheet of the contact paper and lay it on a table sticky side up.  Secure all four corners with a small piece of tape.
Make a line drawing of a turkey with the Sharpie on the sticky side of the contact paper.  You can use scratch paper to practice your design, and slip it under the contact paper to trace if necessary.  Draw it large to take up most of the contact paper, but keep the line drawing simple.
Arrange the tissue paper as the turkey's feathers.  You can use an oil pastel to color in some feathers or the turkey's body.
Arrange miscellaneous collage materials as desired on the contact paper.  Suggested items are yarn, pieces of ribbon, paper & fabric scraps, buttons, sequins & jewels.
Sprinkle with a little glitter, but avoid piling too much on around the edges, as this will prevent the top layer of the contact paper from forming a good seal.
The next step is to seal in your objects by placing the second layer of contact paper over the first.    This can be the most frustrating step of this project, and the contact paper can sometimes have a mind of its own.  With a lot of patience, you can let it know who's boss with this trick:  remove the backing from the second sheet of contact paper and gently drape it in a U shape and hover it above the bottom layer until it appears to be right in the center. Gently drop the lowest point of the "U" until it touches the bottom layer, and slowly lay both sides down moving out from the center.
Trim the edges and use scotch tape to hang in a sunny window!
small hands big art is an art studio in South Charlotte that offers classes, camps and parties for children and young adults. Located at 8025 Ardrey Kell Road, Charlotte, NC 28277.