Turkey Day Treats for Kids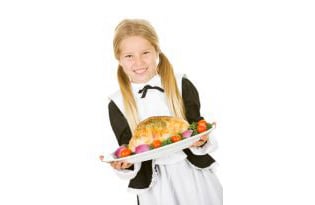 Thanksgiving Day is a memory in the making for kids. No school, sleeping late, the Macy's Parade on TV and a feast to enjoy in the afternoon. What more could a child ask for? How about some fun in the kitchen? Here are some great recipes to fix with the kiddos on Turkey Day.
Turkey-Shaped Cinnamon Rolls
Serves 5
Before the hustle and bustle of Thanksgiving dinner prep begins in the kitchen, surprise your little turkeys with this festive breakfast treat. You can prepare them the night before and just pop them in the oven the next morning, before it's time to bake the real turkey.
1 can large refrigerated cinnamon rolls, such as Pillsbury Grands
1 can regular size refrigerated biscuits
Chocolate chips or cinnamon red hots
Colored sprinkles
Preheat oven according to cinnamon roll package directions. Separate cinnamon rolls and place on cookie sheets, about five inches apart. Separate biscuits. Cut two biscuits into quarters. Place one quarter in the center of each cinnamon roll with the point facing down; this will be the turkey's face and beak. Add two chocolate chips or red hots for eyes. Cut five biscuits into four thin strips each. Dip each strip into colored sprinkles, and place them at the top of each cinnamon roll with the edges touching. These will be the turkey's feathers. Use any remaining biscuit pieces to cut bird feet and attach those to the bottom. Bake according to package directions. Serve with frosting on the side for dipping.
Cranberry Sparkly
Serves 4-6
The children will love it if the kids' table has some grown-up elements. Purchase plastic goblets and treat them to this sparkly juice they can easily make with you. Encourage them to prepare their own toasts to one another.
1 can cranberry juice concentrate
1 can apple juice concentrate
1 2-liter bottle carbonated water or soda water
Combine juice concentrates in a large pitcher or punchbowl. Add six cans of carbonated water. Serve in plastic goblets.
Quivering Leaves
Present a beautiful platter of edible gelatin leaves. If you have a big crowd, prepare several batches, using two or three different colors, such as red, orange and yellow.
Serves 4-6, depending on cookie cutter size
4 packages plain gelatin, such as Knox
3 3-ounce packages flavored gelatin, such as Jell-O, in fall colors
4 cups hot water
leaf-shaped cookie cutter
Combine all ingredients in a large bowl and stir several minutes until gelatin is completely dissolved. Pour into a 9-inch-by-13-inch pan. Chill for several hours until hard set. Cut all the way through gelatin with leaf-shaped cookie cutters. Remove from the pan and place on a platter. (In order to loosen the gelatin from the pan, it may be necessary to dip the pan bottom in warm water for a few seconds.)
Jessica Fisher is a wife, mom of six and a freelance writer. Follow her mom-doings at www.lifeasmom.com.