Tuned In: Music Therapy and Mental Health
Using music as a tool to process emotions and gain better well being.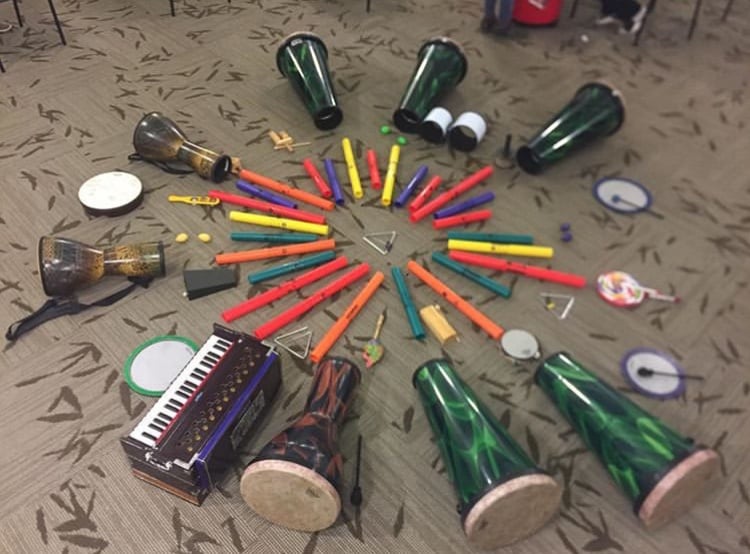 Music is all around us — in our cars, phones, restaurants, stores and even the elevators. You may find that some music you can easily "tune into" and other music makes you want to "tune out." But what about being able to access music for therapeutic reasons? Music therapy is a growing field in health care in which board-certified music therapists provide therapy through music. The American Music Therapy Association defines music therapy as "clinical and evidenced-based use of music interventions to accomplish individualized goals within a therapeutic relationship by a credentialed professional who has completed an approved music therapy program."
Music therapists work with people of all ages and abilities. Settings could range from a school for a student with autism to a hospital for a patient receiving treatment for cancer. Music therapy is designed to provide a non-threatening environment where people can express themselves in a unique and creative manner. Mental health care research shows the effectiveness of music therapy for depression, trauma and stress. In using music therapy, music is the medium in which emotions can be processed, understood and progress may occur.
An overarching domain for clinical work is a client's mental health and sense of well being. Music therapists who address mental health often use a variety of interventions including lyric analysis, which involves a specifically chosen song (either by the client or the therapist) played live or prerecorded. The song is then processed in correlation to the client's specific situation. Exploring the lyrics can provide a client the opportunity to connect their own experiences.
Music improvisation can help a person nonverbally express emotions, thoughts and ideas through playing an instrument or singing. Playing instruments can promote expression of emotions, socialization (if done in a group setting), and the exploration of therapeutic themes, such as trauma or grief. Writing songs helps a person to express emotions in an affirming manner, and is a way to add his or her experiences through original or re-arranged music.
Finally, active-music listening can help to regulate moods, including better management of anxiety, increasing healthy coping skills, improving self-esteem or strengthening confidence.
How Do I Get Started?
As with other treatment practices that are evidenced based, intake and assessment is the first step after a child is referred or self-referred to music therapy. A treatment plan is written with a recommended frequency, length and focus of services (whether individual and/or group sessions). The final step to treatment is termination after the goals have been attained and/or treatment is no longer accessible.
Musical ability or talent is not required to benefit from music therapy services, however, a positive response to music is at times a good indicator that music therapy might be a viable option.
Join in an, inclusive, sensory-friendly open jam session sponsored by the Charlotte Mecklenburg Library, Matthews branch, Sat., June 1 at 10:30 a.m. and more details on the Piedmont Music Therapy website.
Make the time and find a space to tune into your health and wellness. In her words, written by a mother of a former child client: "I feel that music therapists bring an expertise in melding the joy of the child in listening and participating in playing music while also attending to their well being and development."
Summer Camp!
Looking for a local summer camp for your middle or high school student that supports his or her mental health? Check out Camp Express Yourself for rising sixth to eighth graders, happening July 15-19, and Camp Storytellers, July 29-Aug. 2 for individuals age 14-18. Early bird discounts for camp registration ends April 30, 2019.
---
Gretchen Benner, founded Piedmont Music Therapy and has been practicing as a board-certified music therapist for ten years. She is most clinically experienced with mental health treatment and is passionate about mental health care for individuals and families. When not managing the private practice, you can find Gretchen exploring with her toddler.
Melissa Reinhardt has over 20 years of clinical experience working with clients who have developmental and learning challenges. She has been an adjunct faculty and clinical supervisor at Purdue University Fort Wayne and Queens University of Charlotte. Her interests in music therapy are within special education and early intervention. When not practicing music therapy, you can find Melissa reading on her Kindle.
---
For support and to make more connections within the Charlotte area, consider joining this private Facebook Group: Special Friends Connection – Charlotte Area. If you would like to contribute to this blog by sharing your story, email specialfriendsCLTblog@gmail.com.