Tubing at HawksNest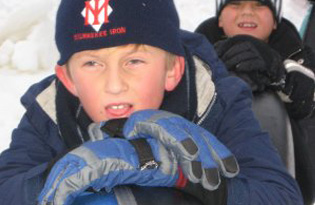 January's winter chill brings the snow bug, and our family loves to hit the slopes. So recently, we made the two-hour drive to the mountains to find some snow. With only 24 hours to spare and a tight budget, the full weekend of family skiing and snowboarding was out of the question on this trip. We found the perfect alternative: snow tubing at Hawksnest. For less than the cost of half-day lift tickets – and no rental equipment hassles – we hit the slopes for an hour and 45 minutes of snow-filled, family fun.
You may recognize the name Hawksnest as the ski resort located in the tiny N.C. town of Seven Devils. Lenny Cottom, owner and manager of the property, converted it this season to exclusively offer snow tubing – making it the biggest snow-tubing operation on the East Coast. With more than 600 tubes and 100 percent snow-making, families are guaranteed good conditions, as long as the weather cooperates.
We arrived during a light snowfall, with two excited 8-year-old boys in tow and got our tickets for the 2 p.m. session. Because there's no special equipment to rent and no lessons required, we were able to jump right into the action. We picked our tubes and started on a moderate slide, but within two runs, the boys were boldly jumping on their tubes headfirst down the steeper hills. 
As a parent wanting to avoid an emergency room visit, the headfirst idea was a little scary, but I reasoned, "If you can't beat 'em, join 'em." So I gave it a try. Going headfirst on a giant inner tube was crazy. I made it down without any need for medical attention, though I did take out a small iceberg with my right knee on the third run and decided feet-first was a better option for a 40-something mom. 
Tubing is great for families because it's easy to participate together. Preschoolers can ride doubled up with Mom or Dad on a tube, and older kids can slide along beside them. Even grandparents get in on the fun. Falling down is minimal, thus reducing the "Mommy, I'm cold!" complaints, but rough-and-tumble boys will find ways to wipe out anyway, and so waterproof snow gear is a must. A moving carpet serves the two main slopes, and a manageable hike is needed to reach the other tube runs. The littlest members might not make it through a full session, but older kids (7 and older) will enjoy every last minute. 
We brought our own camera, but could not beat the close-up, professional shots from the resort photographer. After your session, get a hot chocolate for the kids and a latte from the coffee bar while you find your photos. There's a cozy fireplace and snack bar serving more substantial fare on the second floor, and a bar (beer only) on the upper level where several families were relaxing, watching football and observing the snowy fun below.
After our Saturday session, we retreated to Chetola Lodge in nearby Blowing Rock – a real treat and one of our family favorites.
Hawksnest can be a great destination for a day trip, an overnight in the mountains, or a fun diversion from skiing on a long weekend. Take the whole family and enjoy.
YOU NEED TO KNOW

Hawksnest
2058 Skyland Drive, Seven Devils
800-822-4295
www.hawksnest-resort.com
$22/session; Mon.-Fri. 10 a.m.-6 p.m.
$30/session weekends/holidays
Sat. 8 a.m.-8 p.m. (and holidays)
Sun. 10 a.m.-4 p.m.
Sessions every two hours.
Signed liability waivers required.
Helmets and snow bibs are available for purchase.
Must be at least 3 years old.
WHERE TO STAY
Chetola Resort
North Main Street, Blowing Rock
800-243-8652
www.chetola.com
Guestrooms $142-$270
One- to four-bedroom condos $159-$495
Eve White is the editor of Charlotte Parent magazine.
 
Related Links:
> Mountainside Savings: Tips for Frugal Family Ski Vacations
> Sweet Snow at Sugar Mountain
> Skiing, Snowboarding and Tubing Getaways in N.C.
> Appalachian Ski Mountain