Travel Photo Contest Prizes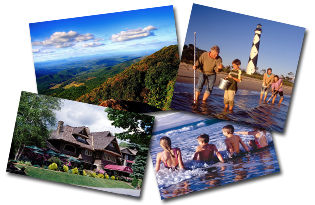 Enter your favorite family vacation photo and you could win one of these fabulous prizes!
Find out how to win and enter here!
Grand Prize – Mountains to the Sea Giveaway – Family of four  (Value of $1000+)


Two nights/three days at the oceanfront Atlantis Lodge in Atlantic Beach, NC on the quiet beaches of the Crystal Coast. The Atlantis is a special place created from a beautifully wooded, oceanfront site, unlike any other on the coast. While you're there, enjoy dinner nearby at Circa 81 in Morehead City, a finalist in the NC Best Dish 2011 competition! The Crystal Coast — North Carolina's Southern Outer Banks is the favored Atlantic beach destination for generations. The authentic "coastal experience" features waters of crystalline purity bordering sandy, sparkling beaches. Offering activities from dining on "fresh from the docks" seafood and exploring historic haunts in a 300-year-old town to enjoying 85 miles of silken shoreline and diving in the no. 1 dive destination in North America, the Crystal Coast provides a active and engaging getaway. The Crystal Coast offers a variety of accommodations to suit every lifestyle and budget from seaside cottages to massive beach mansions. To understand the real coastal experience is to feel the tranquil sea breezes gently blowing across glassy waters, to stroll the historical streets of a quaint maritime village saturated with memories of the past and to experience complete solitude with only the gentle lull of waters of the Atlantic.

PLUS…
Two nights/three days in the mountains of Blowing Rock at Chetola Resort. Enjoy a 2-bedroom condo and all the comforts of home at this upscale resort in the mountains of North Carolina featuring a spa, lake and the Manor House Restaurant. Explore, hike and get outdoors in the beautiful Blue Ridge Mountains.
Top Photo Finalist Prize selection: (examples of prizes … not all finalists will receive all prizes)
Family Membership to the NC Zoo Society (2 adults + all children under 18) for free zoo admission to the amazing North Carolina Zoo in Asheboro for 12 months! See more than 1,100 animals from 250 different species, plus win the book "Animal Adventures in North Carolina" by Jennifer Bean Bower.
Travel backpacks and luggage for kids from Stephen Joseph.
Tons o' toys car travel pack. Keep the kids busy on the road with Crayola Magical Markers (mess free!), Matchbox portable and expandable Sky Busters Missions airbase; and a set of Wikki Stix, the beandable moldable one-of-a-kind creatable for kids.
Family passes to great attractions including the Natural Science Center of Greensboro, SC Aquarium in Charleston, NC Maritime Museum memberships and more.
Beach dude gear for cool kids! Haiden toddler swim trunks and swim shirt (12-18m)…  your tot will be the best dressed kid on the beach! Wallaroo sun hat, protective from UV radiation. Sea Squirts PFD and swim vests for ultimate child safety!
A Nerf Super Soaker, Playmobil Travel fun pack, Kids Love Travel guides and many more toys, games, and DVDs for your kids and family!