Track Kids' Growth Wherever You Are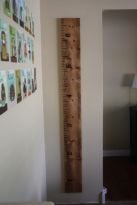 My family lived in the same house for my first 21 years, and there was a closet door marked with the height of each child through the years. Today's families are much more transient and leave behind the precious memories of growth spurts. If you would like to be able to track your child's growth no matter how many times you move, today's post is perfect for you. All you need are:
1″ x 12″ x 6′ Shelf (from lumber dept)
Wood Stain (color of your choice)
Sturdy Metal Tape Measure
Pencil
Black Sharpie
1. Stain the shelf and let dry.
2. Starting at the bottom, mark off each 1″ interval with a pencil. Start at 6″ so you can hang the board 6″ from the floor and keep track up to a 6'6″ height.
3. For best results, use a carpenter's square to draw perpendicular lines at each pencil mark using the black sharpie
4. Add the numbers at appropriate intervals by hand drawing with the sharpie or using vinyl stick-on numbers availabe at craft and hardware stores.
5. To hang, hot glue a flip top from a beverage can to the back of the ruler and hang at the proper height for accurate measuring.
If you are not into the craft thing but would still like a "take-along" growth chart, you can find peel and stick growth charts that are repositionable so when you move you can stick it to your new wall.
Barbara Green believes you can have it all: kids, pets and a beautiful home. She is the owner of Sensibly Chic Designs for Life and the host of Ask the Design Diva radio show, and insists you don't have to spend a million dollars to look like you did.